A Guide To DIY
Handy Insights, Tips And Advice
Last updated: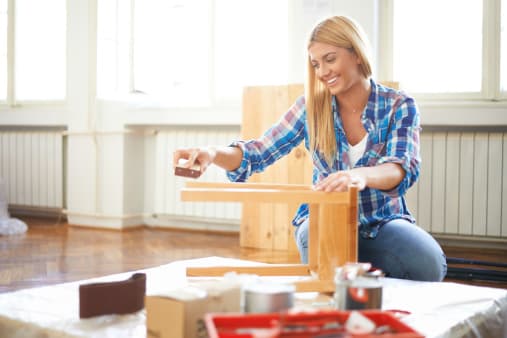 If you're thinking of doing some DIY on your property or you're interested in how others are improving their homes, you should check out our latest eBook. 'A Guide to DIY: Handy Insights, Tips and Advice' delves into Irish attitudes towards home improvements and provides practical tips on how to upgrade your space. It also has information on the latest home design trends to give you inspiration for your next interior design project.
Explore Our E-Book Below
Insights
For the eBook, we polled 400 people across Ireland to explore everything from the types of DIY projects that people are doing to the amount of money they're spending. It seems we're a houseproud nation. More than six in 10 people (62 per cent) said they do DIY in their homes, with men being especially likely to get stuck in. Over seven in 10 guys (72 per cent) said they do DIY projects, compared to 49 per cent of women.
Our survey also found that home improvements don't have to cost a fortune. While five per cent of those polled had spent more than €2,000 on DIY during the last year, 35 per cent had shelled out a modest €100 to €500. The most popular projects were room redecorations, followed by gardening and upcycling old furniture.
Trends
In terms of interior design trends in Ireland this year, it's all about sustainability and the natural look. For example, recycled materials are making waves in kitchen design right now- with various furniture suppliers offering kitchenware, cabinets and tables made from recycled and reclaimed wood. You can carry the natural theme through to the bedroom by using earthy materials like clay, stone and wood, and introducing colours such as burnt orange and dark green.
For an on point look in your living room, you could introduce some greenery, and when it comes to your bathroom, you can't go wrong with marble or marble-effect tiling.
Tips
If you're feeling inspired to make changes to your property, it's important to plan your home improvement projects carefully. First and foremost, make sure you stay safe. As part of this, it's essential that you choose the right tools for different tasks, and if you're using specialist equipment (especially electrical tools), ensure you know how to operate them safely before you get started. Where appropriate, use safety gear such as dust masks and safety goggles, and keep a first aid kit close by in case of an accident.
Pay attention to your home insurance policy too. Before starting a task, check if you have accidental damage cover in case something goes wrong. Also, if you make changes that increase the value of your home, bear in mind that you might need to update your insurance policy to reflect this.
For more in-depth insights, trends and tips when it comes to home DIY, take a look at our eBook. And to share your property improvement advice and experiences, join the conversation online with the hashtag #IrishDIYTips.
First published by Ian O'Reilly