When Was the Last Time You Checked?
Why You Shouldn't Stick With the Status Quo
Published on by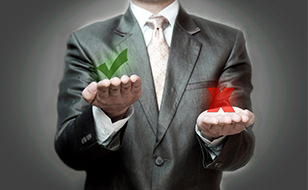 We have all become attached to things throughout our lives. I, for instance, constantly use the same runners when I go out running even though they need to be changed and I still go to the same petrol station even though it's not near my house. But the biggest mistake I make is that I don't always question what my bank or insurance companies quote me for my yearly policy renewals. You could say that I suffer from a severe case of customer inertia. Although this is not fatal, customer inertia can cause unnecessary financial spending.
My inertia has given me the false impression that I have saved not only time but also money by accepting the first thing I am offered or sticking with what I have. This is also not the truth. A recent survey highlighted that Irish consumers are still reluctant to shop around for better deals even though they could stand the chances of saving more than €1200 extra a year.
There is, however, a new breed of consumer entering the Irish market. One who is not driven to bouts of customer inertia but someone who has turned switching into an art form. This group are leading the way for the modern consumers in Ireland by actively research their options, when it comes to service providers, and identifying ways for them to save.
Why They Switch

There are a host of reasons why consumers might want to switch providers such as poor choice of options, prices going up and frustration with the provider. In the car insurance industry, one of the most interesting trends that is beginning to develop is that switches are occurring because customers are becoming more open to shopping around and their decision to switch is based on the high levels of competition in the market place rather than frustration with particular service providers. Another reason why consumers are becoming more open to switching is because of the number of options available to them in the current market place.

How They Can Switch

Switching your gas, electricity, broadband or mobile phone service providers can be subjective. The decision can have a lot of factors but there are some helpful websites out there that can help you investigate your options. At www.chill.ie we can help if you are looking to switch your car insurance. Our secure quick quote engine searches and compares 14 different insurers so you save time searching each individual insurer's websites.

Why They Should Switch

Year on year taking the time to investigate your options could help you save, according some sources, €1200* a year. Putting that into context that could enable you to purchase, potentially, 3 iPads* or a top of the range smart TV.
---
Repurchasing from the same provider year on year can be detrimental to you bank balance in the long term. Become a power switcher by looking to compare and save as much as possible each year. Aim to be one of the 69% of people who can save money yearly by comparing and switching your different service providers. If you are looking to save on your car insurance our team would love to hear from you on 1890 30 20 20 or see what you can stand to save by clicking get a quote now.
*Prices correct as of 18/02/2014
Modified Date: