What a Game!
All Square at Croker
Published on by Fergal Lynch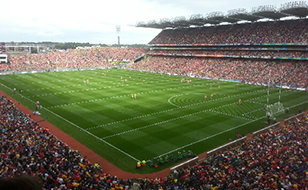 What a game! We've just about caught our breath after the dramatic end to the All Ireland Hurling final as Cork and Clare played out a thrilling 3-16 to 0-25 draw.
Davy Fitzgerald's young Clare side led for most of the encounter, before the Rebels took the lead in dramatic fashion courtesy of a Pa Cronin finish. But with 72 minutes gone on the clock and the Cork fans screaming for the whistle, Clare snatched a draw from the jaws of defeat as the game finished all square. Make no mistake this really was a classic at Croker and a fantastic advert for GAA.
Conor Lehane, Anthony Nash and captain Pa Cronin impressed for the Rebels, but both sets of players gave their all and it really could have gone either way. Jimmy Barry-Murphy's hurling heroes will have a second bite of the cherry in the replay which takes place in 19 days time.
Reflecting on the final, Rebels goalkeeper Nash said:
"There are mixed emotions I suppose. You don't really know if you're happy or sad. With 15 minutes to go we were well out of the game and when injury-time was up we felt we had the lead."
The replay will be played at Croke Park on Saturday 28 September 2013 with the throw-in scheduled for 5pm. Tickets for the game have been reduced by the GAA and you'll be able to buy a seat in the stand for €50 and it'll cost €25 for the terrace. Children from Clare and Cork will also be able to get in for just €10.
After such an action packed encounter, we're backing the Rebels to go one step further in the replay and return to Munster with the trophy. But sport is all about opinions, so let us know in the comments section below who you'll be backing to win.
Modified Date: