Want to Come to the Ideal Home Show?
Free Ticket Giveaway!
Published on by Andrea Bland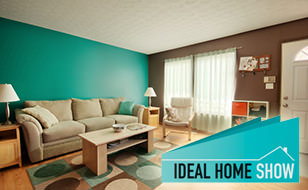 You all loved the Ideal Home Show last time around, so we're delighted to announce that once again we've teamed up with the organisers to offer you guys free tickets to the Ideal Home Show on Friday 25 and Saturday 26 October 2013. We've also managed to arrange a very special 2 for the price of 1 ticket offer for both the Sunday and Monday. That's why we're the good guys of insurance!
For those not in the know, the Ideal Home Show is one of Ireland's best loved and longest running home improvement exhibitions held at the RDS Simmonscourt in Dublin. As always, there will be lots of great offers, demonstrations and displays from all of the top home design, furnishing and decorating companies. This year also sees the Ideal Woman's zone make its debut where you can treat yourself (or a loved one) to a spot of pampering while checking out all the latest catwalk trends.
It really couldn't be easier to get your hands on some tickets. Simply head over to the registration page, fill in your details and enter CHILL as the voucher code. Then hey presto, your tickets will be emailed straight to you from the show organisers.
With so much going on over the four days, we'd advise you to take a look at the Ideal Home Show website for yourself and plan your visit now! It promises to be a cracker. While you're checking out the latest designs at the show, don't forget you can grab a great value home insurance quote by hitting Get a Quote now or by giving us a call on 1890 30 20 20.
From everyone here at Chill Insurance we hope you enjoy the Ideal Home Show and have a brilliant Bank Holiday weekend.
Please note that the provision of this product or service does not require licensing, authorisation or registration with the Financial Regulator and, as a result, it is not covered by the Financial Regulator's requirements designed to protect consumers or by a statutory compensation scheme. The promotion is offered by the organisers of the event: SDL Exhibitions, 18 Main Street, Rathfarnham, Dublin 14. All queries can be directed to the organisers on 01 490 0600.
Modified Date: