Top Gadgets this Christmas
A Look at the Top Gadgets and Gizmos this Christmas
Published on by Sinead Greene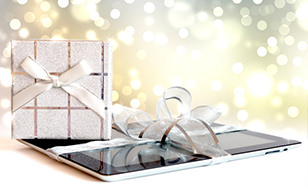 With the Christmas season fast-approaching, we can expect to see technology devices which is synonymous every year with the festive period. But with all the gadgets set to hit the market in the winter months, and devices already available, what will your wish-list look like this year? With your list in mind, take a look at the list of must-have gadgets available, hopefully this will secure a spot under the tree this year.
---
iPhone 5S
The technology kingpin has done it again this year with its latest incarnation of top dog of the smartphone world! And what makes Apples new handheld device, a must-have? The iPhone 5S is loaded with a number of new additions. Most notably, an identity sensor, which captures the users fingerprint, making use of the handset by an unauthorised user virtually impossible. Other additions are its improved sleek design that is far lighter than previous models, and a state-of-the-art camera sensor that gives sharper image quality that most on the market.
---
Samsung Galaxy Note 3
The Samsung Galaxy Note 3, is a device that packs-a-punch! Aside from its sheer size (an impressive 5.7 inch screen), the Note 3 has upped the game in terms of phablets. It sports an integrated 3GB of RAM, making it the fastest operating smartphone to date. It also boasts a remarkable 13 MP camera – so all your snaps are crystal clear quality.
---
iPad
The iPad has always been a stable favourite in the gadget market during Christmas. It's an ideal companion for anyone on the go, and boasts all you need when out and about – internet, apps, music, and even Skype – without having to carry around a laptop.
---
Amazon Kindle Fire
The contender to Apple's iPad, the Kindle Fire is Amazon's take on the tablet. Its latest model is proving a big hit with consumers. And with a new graphics engine; triple processor speed of previous models; larger 7/ 8.99 inch screen, and ability to steam movies, it's shaping up to be a big seller this Christmas.
---
Guard those gadgets!
As you know, shoppers tend to spend hundreds on the latest gizmos and gadgets for themselves, or as gifts to others. And with how advanced, but more importantly, how expensive, these technological trinkets are getting, it's always a wise choice to safeguard your devices against the unexpected happening. Be it your gadget takes a fall; disappears; or becomes a victim of theft, don't be left having to pay the full retail price, get Gadget Insurance. With our reliable cover from €5.99* per month, you won't need to worry if the worst happens.
---
So why not hit Get a Quote now, or call us on 1890 30 20 20, and get your gadgets guarded this Christmas.
Chill, We'll take it from here.
---
* Price based on a Samsung Galaxy S4 for Gadget Insurance Essential level cover. Price correct as of 25/11/13. Usual underwriting terms and conditions apply.
Modified Date: