Supporting Children with CHD
The Official Sponsors of the HCI Calendar
Published on by Sinead Greene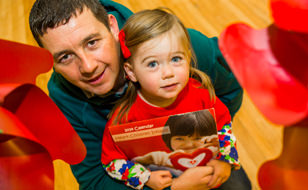 We're chuffed to announce that we've teamed up with Heart Children Ireland (HCI) to launch its 2014 calendar. HCI is an amazing charity that was set-up by a small group of parents whose children were being treated for congenital heart defects (CHD) at Our Lady's Hospital Crumlin. Over the years the group has helped many children by raising vital funds for medical equipment - and it now has over 1,000 members.
The calendar is beautifully shot and photographed in some of Ireland's most picturesque settings such as Powerscourt Estate and Gardens and the children featured have CHD. Speaking at the launch of the calendar; Head of Marketing for Chill Insurance, Fergal Lynch said:
We are delighted to be on board with Heart Children Ireland and working with such a worthwhile charity. The calendar is a testament to all the volunteers at the charity who worked tirelessly to make this happen and will help raise much needed funds for the charity to continue to support the parents and families of those affected by CHD. We encourage as many people as possible to purchase a calendar for only €10 which will make a significant difference to the charity this winter. We are proud to be associated with such a worthwhile charity.
Margaret Rogers, CEO of Heart Children Ireland also commented by saying;
As a charity in a recession, we rely even more on the goodness of people and their generous donations to help children who are born with CHD. We feel that the calendar beautifully reflects the innocence of the children who are sadly born with this condition and require around the clock medical attention in some cases. Chill Insurance kindly came on board with us this year to help launch the calendar as their charity of choice for 2013 and we are very grateful to them for this. Their support along with all other volunteers involved in the production of this calendar has made it possible.
The calendars are available now and only cost €10 - with all the proceeds raised going to HCI! You can get your calendar by heading over to the HCI website or visiting Health Express Pharmacies. Calendars are always an ideal stocking filler for your loved ones – so why not get a calendar before they all go!
Modified Date: