Some Saint Patrick's Day Ideas
Where to Celebrate March 17th
Published on by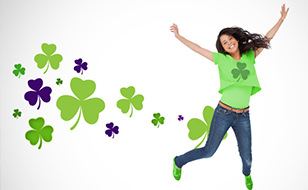 With the country coming to stand still over the next few days we wanted to wish you all a very happy Saint Patrick's Day no matter where you are going to be celebrating our national holiday. The great thing about March 17th is that everyone is Irish around this date. People from all around the world come to these shores to celebrate the festivities that will be taking place over the next few days and it allows everyone to celebrate their Irish heritage.
If you are thinking of taking in some of the events taking place around the country we have put together a quick list of what is happening. There are some great events taking place world wide such as certain international locations going green and parades in cities such as New York, Boston, Birmingham and Chicago.
If you do happen to make the parade in Dublin this year keep an eye out for Stephen Roche who will be the grand Marshall and leading out all the bands and floats. Another grand Marshall will be the lord mayor of San Francisco, Edwin Lee, who will be leading out the parade in Cork.
To find out what is happening close to you please click on the link for the parade that you are thinking of attending.
With so many events taking place world wide there is bound to be some great images created and uploaded to Facebook, Twitter and Instagram. Many of these images will be uploaded using #saintpatricksday or #paddysday so we advise you to keep an eye on all your social streams between the 14th and 18th of March.
Whatever you get up to over the next few days all here at Chill Insurance hope you have a great time.
Lá Fhéile Pádraig!
Modified Date: