Smarter Than Your Phone
Safeguard That Smartphone
Published on by Fergal Lynch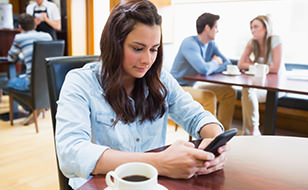 Mobile phones. Everyone has one. But, where would we be without them? They're a necessity most can't live without. Can you remember the days when all we had was a landline phone? It seems like a lifetime ago, doesn't it? At Chill Insurance we know just how important your smartphone is. With that in mind we've put these trusty tips together so you can keep your phone safe and sound!
Talkies gone walkies?

It may sound simple, but the best way to make sure your phone doesn't end up in the wrong hands is to keep it on you at all times. Also try not to have your smartphone on show as you never know who is watching.

The fear they disappear

Smartphones make great magicians, especially when it comes to disappearing acts. How many times have you rummaged around your house frantically looking for your smartphone? The good news is there's some handy apps available that make locating your smartphone that little bit easier. Apps such as Where's My Droid are effective as they have a number of different functions for finding your phone. The most notable is the use of a text message to make the phone ring until found. Another feature is a GPS tracker that can tell you exactly where your phone is if it is out of ringing distance.

Manage that damage

Smartphones have a habit of picking up scratches and scrapes. But what happens if they break? To lower the risk, you should purchase a cover for your phone. Brands such as Otterbox provide great protection as they are designed to withstand a large degree of impact force. But any case is better than no case.
These tips will definitely help against mobile mishaps, but what will you do if the unimaginable happens? That's were we come in. At Chill Insurance we provide cover that will keep your smartphone out of harm's way. So why not hit Get a Quote now, or call us on 01 4003400 to get a quote and keep that phone covered?
Modified Date: