Cork Hurlers Win Munster Title
Cork Are 2014 Munster Hurling Champions
Last updated: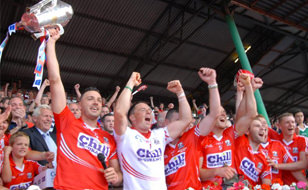 Páirc Uí Chaoimh, and some 36,075 spectators, witnessed a fitting end to its current incarnation as the Cork hurlers dethroned the 2013 Munster title holders Limerick in a match that showcased the high drama, skill and athleticism of the game. There was little to separate the two teams at the end of the match but Cork's capacity to raise the green flag saw them eventually run out 2-24 to 0-24 winners on a warm balmy day on the banks of the river Lee.
The crowd, both at home and on TV, were treated to a match that was frenetic from start to finish with both teams level at different times throughout the game. Right from the off, Limericks intentions to spoil any plans Cork had for a big send off for Páirc Uí Chaoimh was evident. Both teams were evenly matched throughout so it was bound to take a moment of skill from either side to break down the two teams defences and this was the case as Seamus Harnedy and Paudie O'Sullivan eventually managed to find a way past Nickie Quaid in the Limerick goal.
Throughout the pitch players from both sides were engaging in battles with Aidan Walsh and James Ryan putting on a master class in how a midfield battle should be fought. As we mentioned in our preview to the game, midfield was always going to be a battle and both Walsh and Ryan were ably supported by their midfield cohorts. Winning a match of this magnitude and occasion can be down to one team finding their rhythm at a pivotal period of the game and this was the case for Cork. From the 52nd minute onwards Cork hit upon a ten minute purple patch where they scored 2-4 to Limericks 5 points allowing them to eventually overcome the men from the treaty county.
Happy days #clubmates #unreal pic.twitter.com/1d1ihq3BWA

— Anthony Nash (@AnthonyNash6) July 13, 2014
Although Limerick tried to remain within touching distance, the body blows dealt by the free flowing and fluid Cork attack were too much for them to come back from. Cork had outstanding performers all across the pitch with Anthony Nash, Bill Cooper, Aidan Walsh and Shane O'Neill leading the charge went called upon.
Here in Chill we like to think that we provide Insurance without the drama but after a fantastic performance by Jimmy Barry and his charges we might want to re-evaluate that idea. Both teams put on a great performance that made it hard for you to not want the game to go to another round but in the end it was Cork's superior hunger and desire, for a first Munster hurling title since 2006, which eventually got them over the line.
With an August 17th all Ireland semi final guaranteed, the hard work now begins to ensure that this team has what it takes to match up to those teams left in the hunt for the 2014 Liam McCarty title, everyone here is looking forward to all the drama left to unfold.
Brothers in arms...#rebelsabú pic.twitter.com/IQiPRIMr2B

— Eoin Cadogan (@cads3) July 13, 2014
First published by