Saving Money In Your 20's
Start As You Mean To Go On
Published on by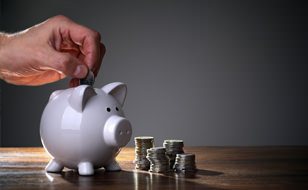 So, you've finally hit your second decade of double digits. It's an exciting time filled with courtships, education, and new experiences. But, with all these things also comes the temptation to flash the cash and dish out the Euros. This is surely an all too familiar feeling, and leads to stressful thoughts when checking your account balance.
But what if there was a way to avoid being out of pocket? Well, here at Chill Insurance we're all about helping you cut down the costs. So why not take a look at some of our top tips that can make saving that little bit easier?
Action Plan
It's all too easy to let your spending spiral out of control when you're not on top of your finances. Always remember the old phrase "fail to prepare, prepare to fail". Why not set out a budget for yourself on a monthly basis? That way you can manage your cash flow regularly, and cut down on unnecessary spending. Break down expenses like rent, bills, food shopping, etc. That way you can see what you can and can't afford, making it easier to say "NO" to impulse buying.
Just Put It On My Card
If you have a credit card we advise that you try to use it only when you think it is necessary. Try to avoid letting the payments stretch as this could impact your credit rating in the future. To help keep a good credit rating you should always try to pay off your cards as quickly as you can.
Cars Cost!
In your twenties, an expensive car may seem desirable, but remember the long term costs. In some instances the bigger the car, the higher the insurance can be, not to mention your car might be in the higher motor tax bracket. A smaller car can be more affordable on your pocket and could help save you a small fortune in the long run.
Keep Yourself Insured
It's always a horrible thought, but what would happen in the event of your unexpected death? Would your family be able to pay the immediate funeral costs? At Chill Insurance, we can set you up with a Life Insurance policy that is tailored to you, to protect your family after your death.
---
It is always important to protect yourself from the unexpected. Be it a car, home, or personal accident. And insurance is always the best route to take. Always browse around insurance companies as doing so could potentially help you cut down on your outgoings.
Here, at Chill Insurance, it's our job to find you the best deal on a range of insurance products, and for the best price. So, why not give us a call on 1890 30 20 20 or hit Get a Quote now, and save yourself time and money.
Modified Date: