Save Money With Stay & Spend Scheme
Save Money This Christmas
Published on by Fergal Lynch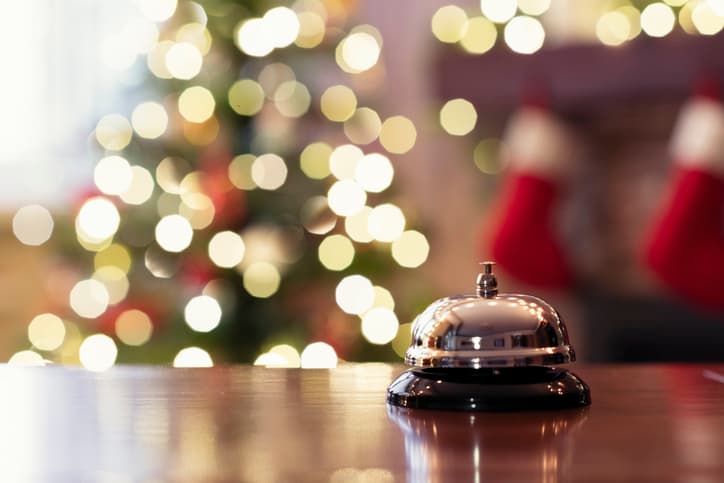 If you are planning to go out for a meal with family or take a short break this Christmas, make sure to save your receipts to avail of the Stay and Spend Scheme.
The Stay and Spend Scheme allows you to claim a tax credit of up to €125 per person when you spend money on accommodation or 'eat in' food/drink.
Value Of Tax Credit
The tax credit available under the scheme equates to 20% of the qualifying expenditure incurred.
For example, if you spend €200 in a restaurant signed up to the scheme, you would be able to claim €50 via the Stay and Spend Scheme.
If you are planning to stay in a hotel where costs will be higher, there is more of an incentive to take part in the scheme. There is a limit on how much you can claim against the scheme. The limit is set at €625 for an individual or €1250 for jointly assessed spouses or civil partners.
So if a hotel and restaurant bill came to €625, an individual would be able to claim a tax credit of €125 (€625 x 20%) via Revenue.ie.
Travel Outside Your County From 18 December
Under the current government guidelines, citizens are permitted to travel outside their counties from 18th December 2020.
If you would like to escape for a well deserved break over Christmas and take advantage of the savings from the Stay and Spend Scheme, explore our list below as we highlight some favourite places to visit and eat-in across Ireland.
Kinsale, Co. Cork
Located on the south west coast of Ireland, the picturesque town of Kinsale is well known for its history as well as its food. Kinsale has a vast range of accommodation available to cater for all and there are plenty of hotels, B&Bs and guesthouses. Known as the 'Gourmet Capital of Ireland', Kinsale holds an excellent reputation for restaurants, cafes and bars.
Greystones, Co. Wicklow
The town of Greystones lies on the east coast just south of Bray Head. Accommodation consists of B&Bs, as well as self-catering, with many excellent hotels located within a 15 minute drive of the town. There are plenty of places to go for a wonderful meal, such as The Happy Pear and The Hungry Monk. You can work up an appetite by going on a scenic walk. Popular trails include the Greystones Way and the stunning Bray to Greystones Cliff Walk.
Westport, Co Mayo
Westport is a town filled with charm, culture and an abundance of places to stay and eat. Popular spots include Hotel Westport and Knockranny House Hotel & Spa. Mealtimes may be difficult due to the vast range of choice available. There are many fantastic cafes, bars and restaurants to satisfy any appetite. We recommend Marlene's Chocolate Haven and JJ O'Malley's Bar and Restaurant.
Carlingford, Co. Louth
Carlingford has much to offer in terms of accommodation, food and fun, making it a popular holiday destination. There are a variety of hotels, B&Bs and self-catering accommodation to choose from such as the Carrickdale Hotel & Spa and Carlingford House. Fancy a bite to eat? A trip to is Carlingford Arms and Ruby Ellen's Tea Rooms won't dissapoint.
Lahinch, Co. Clare
The coastal village of Lahinch has many qualities that make it an ideal choice. Well known for its golden beaches and famous golf courses, Lahinch also has much to offer in terms of accommodation and dining with a wonderful selection of hotels, B&Bs, self-catering, restaurants and cafes. It is a great place to stay if you would also like to explore famous attractions such as the Burren and the Cliffs of Moher.
Important Rules to Know About The Spend And Save Scheme:
Food and drink purchased on a "take away" basis do not qualify for this credit. Alcoholic drinks or drinks purchased without food also do not qualify.
A minimum of €25 per transaction must be spent in order to qualify for the tax credit.
Credit can only be claimed against qualifying businesses. Double check with Revenue here before booking a break/restaurant.
Claims can only be made for expenses incurred up to 30 April 2021.
For detailed information on all the rules relating to this scheme, please visit revenue.ie.
How do I make claim?
In order to claim this tax credit, you will need to submit a copy of a receipt that shows your qualifying expenditure and submit through the new Revenue Receipts Tracker App.
Ireland is a treasure trove of ideal staycation destinations, many of which you can travel to by car. Make sure to have your car insurance up to date so that all the adventures you have can be done so with safety in mind. If you would like to get a quote you can click on the link at the top of this page or you can call us on 014003400 to speak to our friendly team.