Renault Winter Service Offer
Get Your Car Serviced This Winter
Published on by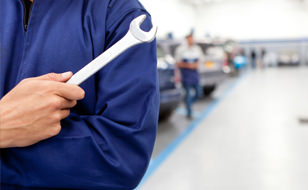 During the winter months you need to be prepared for the effects of the elements on your car and on the roads. It is important to have your car safe, roadworthy and reliable heading into the winter months. With most of us beginning to face into the rigours of the winter driving season now could be a good time to have your car serviced and be prepared for whatever winter throws at you.
To help you get the best out of your car we've teamed up with the good people at Renault Ireland to offer your car a winter car service for just €99 between November 12th 2014 and January 31st 2015.
All you need to do to claim this brilliant deal is to contact your nearest Renault Ireland dealership, from the below list, and quote the chill insurance offer at time of booking your service.
The service offer covers any make and model of car five years or older and is valid in any of Renault Ireland's 26 nationwide dealerships. Not only does your car get a winter service from any of Renault Ireland's team of expert mechanics, you also get a host of additional extras;
Oil and Filter replacement plus 25 point check.
Free Bulb replacement (where necessary).
Free Wiper Blade replacement (where necessary)
15% discount of tyres. ( T & C's Apply)
If you would like to avail of this fantastic offer we've put all the dealers together by their location in Ireland so that you can find the nearest Renault Ireland dealership to you. To claim this fantastic offer all you need to do is click on the dealer closest to you to book a service.
How do you want the chance to drive away in a brand new 151 registered Renault Mégane Expression this winter? We've team up with Renault Ireland to not only give you the chance to win the Megane Expression but also free car insurance and car tax for a year. Find out more about this fantastic giveaway here.
---
Renault Showrooms in Dublin
Renault Showrooms in Leinster
Renault Showrooms in Munster
Renault Showrooms in Donegal
Renault Showrooms in Connacht
---
*T&C's Apply
Offer is valid between November 12th 2014 and 31st January 2015
Offers are only available at participating Renault dealers. Non-participating Renault dealers may have their own specific service offers
Offer available to all makes and models of car 5 years or older
Offers are restricted to 4 cylinder petrol (normally aspirated) and 4 cylinder diesel (turbo-charged or normally aspirated) engines up to 2.2 litres, and excludes high performance or "sports" models. Please contact your Renault dealer for a quote on any vehicle that falls outside of the restrictions.
Offers are inclusive of vat at 13.5% and cannot be used in conjunction with any other offers outside of the winter service campaign.
Renault Ireland reserves the right to make amendments to the content of the offer at anytime at the discretion of the company.
Bulbs replaced where needed free of charge. (Replaced bulb must be present on vehicle. Replacement bulb to be sourced from the Motrio range of bulbs.)
Wiper Blades replaced where needed free of charge (Windscreen Wipers Only, Replaced Wipers must be present on vehicle. Wipers to be sourced from the Motrio range of blades.)
All information is correct at the time of print and is subject to change without prior notice.
For a full list of terms and condititons please click on the following link.
Modified Date: