Renault Megane 161 Winners
Championship Car Giveaway
Published on by Fergal Lynch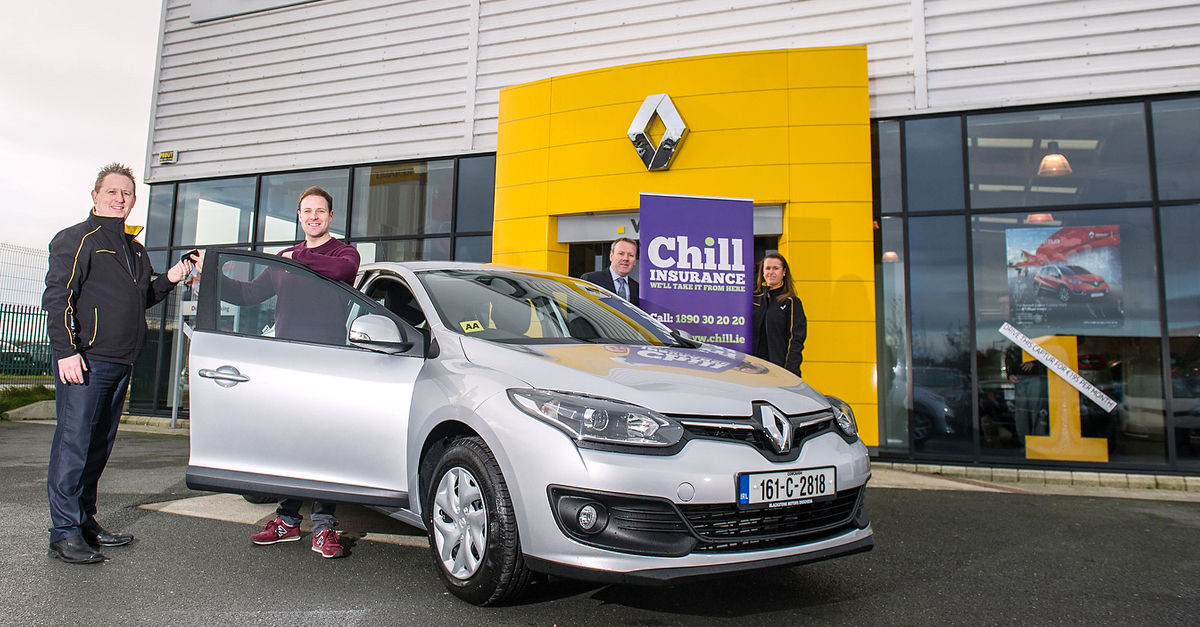 As many of you might remember, back in September we held the Chill Insurance Championship Car Giveaway in which we had 2 brand new 161 Renault Megane's to give away. Today, both of our lucky winners picked up their brand new cars.
Firstly, Jonny McGailey from Co Louth collected his stylish 161 car from Blackstone Motors in Drogheda, Co Louth (pictured above). Jonny won the second round of the Championship Car Giveaway on The Ryan Tubridy Show on RTE Radio 1. He made it through to the final thanks to a fantastic Lord of the Rings quote impersonation and went on to win the car by winning the correct key for the car in the Ultimate Movie Quote Quiz.
Secondly, Pamela Cummins from Co Kildare picked up her slick new car from Joe Mallons Motors, Naas, Co Kildare (pictured below). Pamela won the first round of the Championship Car Giveaway on the Rick O'Shea show on RTE 2FM. Pamela guessed the mystery celebrity in the back of a Renault Megane correctly to make it through to the final where she had to pick between 4 fridges live on air. She picked No. 3 and the key inside was the one that opened the Renault Megane.
Both winners were one of the first few to get their hands on the new 161 cars and also won a year's free road tax along with one year's free insurance up to the value of €500. Congratulations again to Pamela and Jonny!! We wish you both a very happy driving experience in your new Renault Meganes.
For more information on the Renault Megane cars and Renault Ireland, please visit www.renault.ie.
We are looking forward to working with Renault Ireland over the next year on more exciting competitions so keep an eye on our blogs and social media to ensure you don't miss out!
Modified Date: