Renault Car Giveaway
Our First Winner!
Published on by Fergal Lynch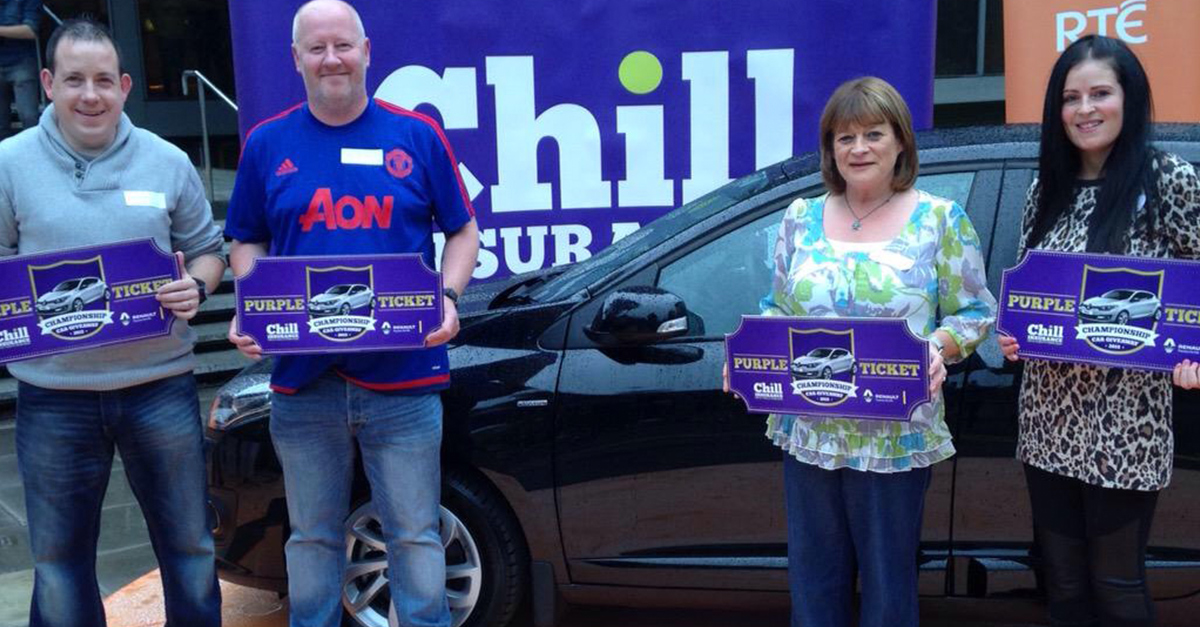 We had our first week of the Chill Insurance Championship Car Giveaway, in association with Renault Ireland, last week on the Rick O'Shea show on RTE 2FM!! Between Monday and Thursday, 4 finalists won a Purple Ticket each! They had to guess who the mystery celebrity was in the back of the Renault Megane to win a Purple Ticket. Victoria Beckham, Dermot O'Leary, Jamie Oliver and Bono featured but if you guessed the incorrect answer then the other caller on air automatically won!! It was very intense!!
On Friday, we held the final at the RTE Radio Centre live on the Rick O'Shea show. Our four Purple Ticket finalists were:
Debbie Sheane, Co Wicklow
Gary Breslin, Co Wexford
Pamela Cummins, Co Kildare
David Flanagan, Co Louth
Unfortunately, the weather wasn't great but that didn't stop the final from being very exciting and tense! Each of the finalists picked out a Purple Envelope from a fridge with a Renault car key in it. Then one-by-one they had to press the button on their key to see if it opened the Renault Megane. There were some shaking hands as the nervous finalists pulled out their keys. Debbie and David's keys failed to open the car, so then it was between Gary and Pamela. Pamela tried next and leapt into the air when the lights flashed on the car! Pamela was over the moon when she realised she had won a brand new Renault Megane!! The other finalists didn't go home empty handed either as they left with car insurance vouchers!
A great afternoon was had at the RTE Radio Centre on the Rick O'Shea show. We would like to thank all the finalists who came along on Friday and everyone who entered the competition during the week. A big congratulations to Pamela Cummins again, we are absolutely delighted for you!! It was a fantastic week! Check our video below to get a glimpse into how the Chill Insurance Championship Car Giveaway final played out!
---
We are doing it all over again this week but this time on the Ryan Tubridy show on RTE Radio 1 between 9-10am!! Tune in all this week to find out how you can win a Purple Ticket and join us on Friday at RTE Radio Centre for another exciting final!! You might be as lucky as Pamela and be the owner of a brand new Renault Megane by Friday morning!
Modified Date: