Oktoberfest Travel Advice
Have a Wunderbar Time!
Published on by Simon Keating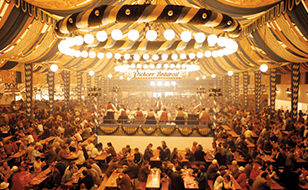 It's that time of year again! For many of us now is the time when you can get out the German dictionary, dust off your lederhosen and descend on Munich for a couple of days of Oktoberfest fun. If you'll shortly be making your trip to the land of beer, make sure that you take a good look at our advice to make your trip all the more wunderbar!
You can with a battle plan

It's always good to draw up a plan of attack. A little homework can go a long way. Oktoberfest boasts an impressive 14 beer tents, each with their own unique atmosphere. It can be handy and helpful to create a list of activities, events, and tents you plan to visit, so you know what's on where, and when.

The early bird…finds a seat!

This is literally the case. With the huge number of people attending Oktoberfest every year, each tent can fill up quickly. To avoid wandering around in a desperate attempt to find seating, it's best to arrive early, secure yourself a seat, and experience all the festivities in their glory. No one likes to be caught outside in cold, especially when all the fun is to be had inside.

Safe and secure

Keep an eye on your personal belongings. In a crowd, a thief can thrive, and in many cases, each tent will be packed with people. Keep items like your phone, camera, and wallet secure on you. You never know who could be watching as you pull out your wallet to pay for the next round of steins.
If you're jetting off to Germany we're sure that you'll have an amazing time! But before you sample the delights of Bavaria make sure that you've taken out travel insurance. Why not click Get a Quote now or call our friendly team on 1800 30 34 09, and we can help you with all your travel cover needs?
Modified Date: