Keep Your Resolve
How to Keep Focused on Your Goals
Published on by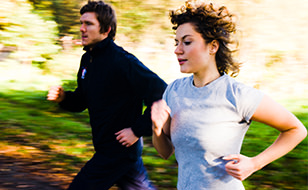 The first few weeks of a new year are a great opportunity to look back at what you have achieved in the year gone by and set your goals for the year to come. From my own experience I know that I like to set a new challenge for myself every year such as taking part in a marathon or a triathlon, learning how to bake or even up-skilling in a new discipline.
Here at Chill Insurance we always love looking back at our 2013. Over the course of the year we achieved some fantastic business milestones and watched on proudly from the side lines as the Cork hurlers took part in one of the best All Ireland Hurling finals of the last decade.
Keeping your mind focused on a goal for the new year is a great way to keep yourself disciplined and, depending on what you want to achieve, justifies that extra piece of chocolate in the evening time.
Set Realistic Goals

Achieving your goals can be helped in the long term if you recognise the difference between changing your habits and making goals. Setting yourself a short term and achievable goal at first ensures that you don't overload yourself with unrealistic targets
If you want to save money this year why not keep a log of how much you spend on a weekly basis. This makes your target more tangible and also gives you an idea of how much you stand to save.

Ask For Help

Understanding how you can achieve your goal can put you on the path to success. From a personal standpoint I work best when I am in a group which means that I enjoy group training and study as I can watch and learn from others around me.
A recent report by Irish Sports Council highlighted the fact that new sporting activities are mostly taken up through social connections with friends, colleagues and family members. So why not ask a family member or someone you work with if they want to join you for a walk or to if they speak another language as you never know what you might learn.

Plan It Out

Most goals we set ourselves are practical and can be tracked. This means that when you decide to save money you can see from your bank statement that this is happening, if you plan to bake more you will be soon getting requests from friends and colleagues for your signature bake and how to avoid that soggy bottom.
By setting aside time in your calendar or daily plan dedicated to your resolution it can become second nature and common place. Set a reminder in your calendar to remind you to go for that walk, read the next chapter or learn that new word.

Reward Yourself

No one learns to run before they can walk is a simple analogy that you should remember when you begin to undertake your goal. As I mentioned already knowing the difference between a goal and a life change can be helpful in the long term. Knowing that taking part in a 5km run is going to take you 6 weeks or more means that when you come back in from that first jog you wouldn't be disheartened.
Use positive motivation at the beginning and throughout your first few weeks. Many goals we set ourselves are not extreme so there is no need to change your habits completely.
If you like a glass of wine or beer at the end of the week why not set it as a reward for your efforts during the week. This acts as motivation to get you through your week. Allowing yourself to have small rewards keeps you focused and keeps a sense of normality to your weekly routine.
If you are looking to save more money why not contact us to see how we could help you save on your home or car insurance. If you have decided to travel why not see how our travel insurance could help you on your trip. Our friendly and helpful life team are always on hand to help you with any queries you might have about how our policies might be able to help you invest in your future.
So call us on 1890 30 20 20 to see how Chill Insurance can help you with your goals today
Modified Date: