Keep Your Garden Secure
With Our Simple to Follow Tips
Published on by Hassan Juma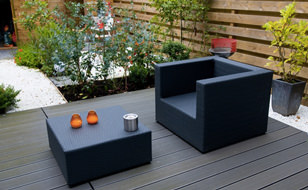 We like to think of ourselves as the good guys of home insurance, and that's why when we're not busy comparing 14 insurers we try to share tips on here that can keep your home secure, reduce the chances of a claim and maybe even lower your premium.
With many Garda stations closing, home security has come under the spotlight recently and with this in mind we thought we'd share some sound advice to keep your garden secure.
Make a gravel path

Adding a gravel path or loose stone to your driveway is a wonderful way to help deter a burglar as it will enable you to hear if somebody is approaching your front door. Not only that, if you have a pet dog the sound of somebody walking on a stone path will normally be enough to set them off barking and put off a would-be thief in the process.

Install lights

There's loads of different lights available which can be used to deter burglars from your garden. We recommend that you use halogen lights and a passive infrared sensor to ensure that any movement in your garden sets off the light. You'll also want to make sure the beam from the lights is kept away from your neighbours and any nearby roads.

Put locks on sheds

It's pretty shocking the number of people who keep expensive garden machinery, such as lawnmowers, hedge trimmers and tools in a garden shed, yet don't keep them safely locked away. Our advice is; if you're going to buy tools, make sure you put aside some money to store them securely, just like you would with your bike lock. It's a good investment.

Keep your garden tidy

We advise that you try and keep all property either in your home or locked away in a garage or shed. Expensive items left in your garden will look inviting to a burglar and bulkier bits could be used to break into your property. So don't give thieves a helping hand, make sure that nothing is on view in your garden.

Buy some prickly plants

This tip is not just for the green fingered amongst us. By planting prickly vegetation like Rosa Rugosa, Holly or Hawthorn on your fences, you'll be able to create a very effective and natural boundary to keep burglars out.
What tips do you have to make your garden that little bit more secure?
Modified Date: