Is Your Car Set for Winter?
Our Driving Checklist
Published on by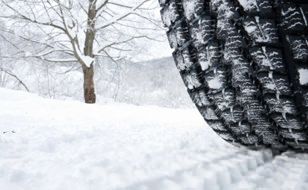 The clocks may have gone back and the weather has turned a lot colder, but is your car ready for winter? With wind, rain and maybe even some snow forecast in the coming months, we thought it would be a good idea to create a winter driving checklist. We don't just want to get you a great deal on your car insurance, but keep you safe on the road too!
Here's five questions to ask yourself before tackling the roads this winter:
How's your car battery doing?

Every winter flat or dead car batteries are a common cause of roadside breakdowns. But there are some simple things you can do to maximise the life of your battery, such as switching off heaters, lights and windscreen wipers before you turn the engine on. However, car batteries normally last around five years, so if you've had your battery for that length of time it might be an idea to pay a visit to your local garage before the cold weather really sets in.

What condition are your tyres in?

It's absolutely vital that you make sure your tyres are in good condition ahead of the expected cold snap. We all know it can be slippery on those wet and icy roads, so have a good look for any wear and tear. You can do this by checking the tyre pressure, and looking for any unusual bulges or cracks in your tyres. Remember to look at your spare tyre too.

Are your window wipers working?

If you can't see out of your car windscreen you won't get very far. This might seem really obvious, but it's important to ensure that your windscreen wipers are in full working order. To make sure you can see clearly when the bad weather hits we recommend keeping your windows clean, having an ice scraper handy and using your air-con to help demist the windscreen.

Have you got an emergency kit?

It's always good to be prepared and we recommend that you create a kit for emergencies, just in case the unexpected happens. We advise that you keep in your car extra clothes, a blanket, first-aid kit, spare mobile phone, bottled water and sweets. These items will keep you warm and comfortable if you have trouble with your car this winter.

Do you have a plan?

It may seem extreme, but have you thought about what you will do if you become stranded in the snow? If your engine fails to start, we recommend trying again for no more than five-seconds, before leaving around thirty-seconds for the battery to recover. The best advice is to not leave your car, unless you know how close help is to you, reach for you emergency kit to keep warm and to turn on the heater for 10 minutes every hour.
We hope you have a wonderful, safe winter!
Modified Date: