The Irish Abroad
Sun, Sea and Speedos?
Published on by Simon O'Donovan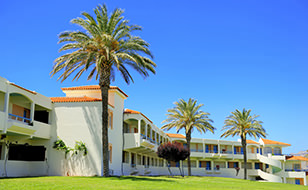 Beers or the beach? Sunbathe or sports? Speedos? All very good questions and all of which are covered in the recent Expedia Flip Flop Report 2013. The report, which surveys holidaymakers around the globe, identifies interesting trends and asks the truly hard hitting questions when it comes to holiday habits.
Booze beats the beach

For the typical Irish holiday goer, access to alcohol tends to outrank most other factors when planning a trip – over a third of Irish people see the availability of a good pint as a deal breaker. This figure trumps every other EU country bar the British. While a high percentage (73%) of Irish holiday-makers like to sunbathe while on holiday, even more like to enjoy a drink and unwind.

Support for Speedos

The Speedo-style swimsuit proved to be a globally endorsed beachwear option, with 65% of beach goers deeming them acceptable seaside attire. As it turns out, Europe is in fact the continent most in favour of donning your Speedos when going for a dip. This however is a view that we Irish do not share with our continental counterparts – almost one in two Irish holidaymakers would rather see the Speedo sent packing.

If you would prefer a Speedo-less seaside experience, you might want to avoid the beaches of France and Italy, where the controversial piece of kit is considered acceptable attire by the masses – 91% and 84% respectively.

Scarier than sharks?

The main concern for worrisome sun worshipers turns out not to be jellyfish, sharks or even Speedos, but rather having wallets or other valuables stolen. You can't take your wallet, phone or tablet in for a swim, so it's important to keep them out of sight or with someone on the shore.
We offer great value gadget insurance to give you the peace of mind you need, so that you can get on with enjoying your holiday. If you'd like to get your gadgets covered now, simply hit Get a Quote.
Modified Date: