Ireland's Best Festivals
Don't Forget Your Wellies
Published on by Sinead Greene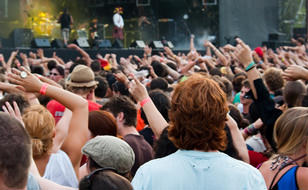 With the weather starting to warm-up, now is the perfect time to begin thinking about summer music festivals. We know there's loads to choose from, so to help make things a little bit easier, here's a look at some of the best festivals taking place on these shores:
Forbidden Fruit, Dublin: 1-2 June 2013

This two day long festival at the Royal Hospital Kilmainham, Dublin really has cemented its reputation as one of the most popular in Ireland. There's four stages packed full of music, comedy, art and fashion, and the unmissable headline acts this year includes Kasabian, Primal Scream, Crystal Castles, Chic and James Blake.

Sea Sessions, Donegal: 21-23 June 2013

If you love surfing, skating and music then quite simply you need to get yourself along to Sea Sessions. This year's festival looks set to be its best ever with Fat Freddys Drop, Xavier Rudd, Bastille, The Milk, Gilles Peterson and The Original Rudeboys all making an appearance in Donegal. There will also be the chance to see some of Europe's top surfers in action too.

Longitude Festival, Dublin: 19-21 July 2013

Located at the beautiful Marlay Park, Dublin this year's Longitude Festival will see a fantastic mix of local and international bands take to the stage. Those looking for the authentic festival experience may be left disappointed though, as there are no camping facilities for festival goers. But with Kraftwerk, Pheonix, Vampire Weekend, Foals and Yeah Yeah Yeahs headlining we're sure your disappointment won't last long.

Castlepalooza, Tullamore: 2-4 August 2013

If you're looking for something a little different this summer then Castlepalooza might just be the place for you. Castlepalooza is a wooded wonderland based at Charleville Castle where they promise you great music, magic, and mind-blowing memories. With Armen Giorgio, Automatic Tasty, Benny Smiles, Big Dish Go, Bouts and many more hitting the stage, it promises to be an amazing weekend. What more could you want?

Fleadh Cheoil na hEireann, Derry: 12-18 August 2013

This iconic festival has been running for over 60 years now, but this summer it will cross the border for the very first time and be held in Derry. Fleadh Cheoil na hÉireann is great fun for all the family and attracts over 250,000 visitors and 20,000 competitors who showcase their talent. If you like trad music, then you'll love Fleadh.
Whichever festival you decide to go to this summer, make sure that you take out gadget insurance. The good news is you can get cover in next to no time on our site. Just hit Get A Quote now.
Modified Date: