In-Flight Phone Advice
Don't Risk it!
Published on by Simon O'Donovan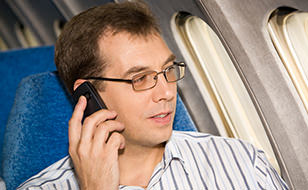 A survey conducted recently by a leading travel agent has unearthed a rather unsettling pattern amongst airplane passengers. It found that of the 1,793 adults surveyed, more than one in five ignored restrictions surrounding the use of mobile phones on board an aircraft.
The most common mobile phone faux pas was turning it back on earlier than allowed after landing, closely followed by not switching the device off at the appropriate time. Other mobile misbehaviour included trying to send text messages, make phone calls and access the internet during flights.
Of those that did not play by the rules, 86% claimed to have forgotten about the restrictions! This is despite the fact that mobile phone restrictions are often clearly outlined by airline staff before take off, as well as during the flight. However some people said they had deliberately overlooked the rules as they did not believe that phone usage actually affected the plane.
While there is much confusion surrounding what impact the use of mobile phones really has on an airplane, there have been incidents in the past that have been linked to phone use on board. In any case, airlines have chosen to err on the side of caution on the matter and it's our advice that passengers adopt the same attitude – your phone will still be there when you arrive.
So if you want to get your holiday off to a flying start, the advice is to listen to the instructions of your cabin crew, relax and enjoy the flight.
If you are yet to jet off this holiday season, be sure to check out our great value travel insurance! Whether you're looking for single-trip, annual multi trip or extended stay cover, hit Get a Quote now or give one of the team a call on 1800 30 34 09 – just not while you're on the plane.
Modified Date: