Home Safety Tips
Providing Cover This Christmas
Published on by Conor Dunne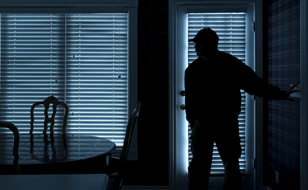 For many of us our home will be the single biggest investment we will make, so it makes sense that we protect it while we are away. Thankfully there are a number of measures that can be put in place which the Chill Insurance team have outlined below.
Develop good security habits

Roughly one third of all burglaries occur through unlocked doors and windows. You should establish a routine to follow before you leave home, such as making certain that all doors and windows are locked and alarm systems are turned on. In addition to this, don't hide house keys in obvious places, such as under doormats or on top of the doorframe.

Make sure exterior doors are strong

External doors should be made of metal or solid hardwood and be at least one inch thick. It is also important that your door frames are constructed equally well and those doors fit in their frames securely. A weak door or door frame renders a good lock useless.

Deadbolt locks offer the best protection

The cylinder (where the key is inserted) should be pick resistant. Some deadbolts are locked with a key from the outside and a thumb turn on the inside. Others, known as double-cylinder locks, require keys on both the outside and the inside. If you install a double-cylinder lock, keep the key within reach of the door in case family members need to leave quickly due to a fire.

Lock your windows securely

You should lock your windows with key locks or other devices
When locked with a key, remember to remove the key from the lock and hide in a safe place where it will not be visible to possible intruders.

Install a burglar alarm

Security systems vary in cost, but you should consider this as an investment. For a standard alarm (not monitored) the majority of insurance companies will offer up to 5% off your insurance premium and for an NSAI approved monitored alarm such as Eircom Phonewatch, discounts can range anywhere from 5% - 10%.

Keep your home well lit

When you go away, leave a few lights on in the house, and leave the outside lights on, too. Place outdoor motion-activated floodlights high out of reach so they can't be easily tampered with. Before going away overnight, put lights and a radio on automatic timers (available from all good electrical stores) or have a neighbour put your lights on for a few hours each night.

Keep the house looking well

If you are going away for a few months, why not ask that trusted friend or neighbour to pull your blinds at night, keep a car in the drive, cut your grass and collect the pile of post and junk mail that may be building up inside your door.

Consider a safety deposit box

While you are away the likelihood is that you have left valuable items in your home, so where is the best place to store these? Under the floorboards? In the attic? Under the mattress? These are all very obvious places to hide valuables and are often the first place intruders will look upon entering your property. A safety deposit box is worth considering and are available from www.officespot.ie, an Irish company who offer free shipping and next day delivery.

Notify your insurer

If you are lucky enough to get away for more than 30 consecutive days, please ensure you ring your broker or your insurer directly to let them know. Sometimes policy cover can be affected so it really is safer to double check.
We hope these tips help! Why not get an instant online home insurance quote with Chill Insurance, now comparing over 14 insurers so we really can get you the best deal and benefits in the market.
Modified Date: