5 Ways to a Healthy New You
Tips on Eating Healthy and Feeling Great
Published on by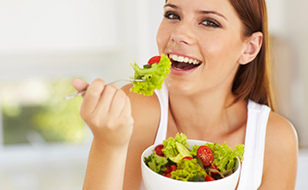 We'll keep this blog short n' sweet highlighting the important health facts to remember. First of all, for effective weight loss it's best to avoid fad diets. Research has shown that most fad diets and food supplements don't work long-term as they don't give you the correct amount of essential nutrients such as a balance of carbohydrates, protein, fat, fiber, vitamins, and minerals. Before undertaking any new dietary or exercise plans make sure you check with your doctor in advance.
Five a day

Getting your 'five a day' is important. Fruit and vegetables are great as they are low in calories and full of essential nutrients. Our tip is to bring some fruit with you on the go or at your desk in work. Fruit such as a banana's, apples and mandarins are great as they're easy to eat without much hassle.

Water

It's important to drink water during the day. It is a great way to lose weight as it helps flush out your system and is brilliant for your skin. We suggest keeping a bottle of water on your desk at work, drinking plenty of water during meals and bringing a glass of water when going to bed.

Get Up n' Go

Getting 60 minutes of light exercise is important in your daily routine as it can help you regain focus and let off some steam. Try adjusting your daily schedule a little such as getting up earlier in the morning to go for a walk or cycle or even to work, take the stairs instead of the elevator in work or go for a quick walk on your lunch break. You'll soon realise that you will feel better by making these small alterations while saving some money if not taking the car to work. Overall, it's about feeling great, having more energy, stabilising your mood, and keeping yourself as healthy.

It's all about how you eat

Everyone leads a busy life, but sometimes you just need to slow down to avoid eating unhealthy food. Try having a healthy breakfast as this will jump start your metabolism. Eating small healthy snacks during the day can help you avoid eating late at night. Avoid, if possible, food shopping on an empty stomach as this can sometimes influence your decision making process.
Portion sizes and weighing your food out are an important factor to consider. Try using smaller plates, bowls and glasses as this will help you eat less and feel satisfied. Chewing your food slowly will enable your stomach to tell your brain when you're full.

Treat Yourself

Its important not to cut out all the food you enjoy. Have the occasional treat to reward yourself and remember every healthy food choice you make counts in the long run.
---
Chill know that staying health and sticking to diets is not always easy but it is the simple things that can make all the difference. Staying healthy and happy is important at all stages of life which is why Chill are on hand to help you choose the best life insurance policy suitable.
Why not visit our dedicated life insurance page to see how quick and simple it is to choose the best cover for you or contact us on 1890 30 21 21 to speak to a member of our team.
Modified Date: