Have You Visited Us?
Come & Get a Fantastic Deal
Published on by Fergal Lynch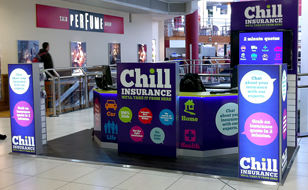 Although buying insurance online is growing increasingly popular with Irish consumers we know sometimes you may just want to go and speak to somebody face-to-face before taking out a policy. There's where we come in!
We like to do things a little bit differently at Chill Insurance, and we've certainly done that with our pop-up stores. Having these stores means that when you're out shopping you can pop in and enjoy the same great level of cover, choice and value in our stores as you would over the phone or online.
The stores have definitely proved a hit with customers so far and due to their continued success we have even more planned throughout the country for the year ahead. So watch this space. We may be taking the hassle out of insurance at a shopping centre near you in the not so distant future.
We all lead busy lives and know that searching for insurance can be a chore; so we like to think that our stores can make your life a little bit easier. If you're hitting the shops why not come in and speak to one of our friendly staff?
Whether it's car, home or gadget cover you're looking for, our team will be able to help you get the right type of insurance. If you can't wait that long just hit 'Get a quote' on the right-hand side or give us a call on 1890 30 20 20.
Modified Date: