Happy Easter!
Enjoy the Long Weekend
Published on by Sinead Greene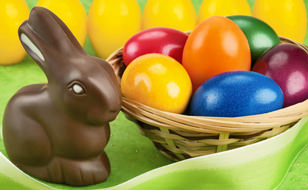 With Easter well and truly upon us, I'll be keeping this blog post nice and brief! I expect you've got a fun weekend planned eating lots of yummy Easter eggs and going on Easter egg hunts (I know I do), but if you're on the look out for great value car insurance or home cover, you'll be pleased to hear that we'll be open for most of the Easter holiday.
Our full opening hours over the Easter break are:
Friday 29 March 2013: 9am- 8pm
Saturday 30 March 2013: 10am- 5pm
Sunday 31 March 2013: Closed
Monday 1 April 2013: 12 noon - 6pm (shops only)
Tuesday 2 April 2013: 9am- 8pm
Easter is one of those times of year where it's nice to spend quality time with family and loved ones. So from all the team here at Chill Insurance, we hope you have a great Good Friday and an egg-cellent Easter break!
Modified Date: