Half Marathon Build Up
We Chat To One Of Our Half Marathon Runners
Published on by Andrea Bland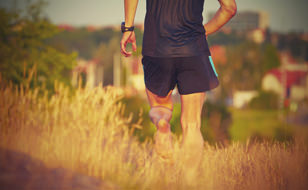 Back in May 2014 some of our Life Insurance team set up an internal company running team to try to get more of the company active. They even talked a couple of the team into running in the SSE Airtricity race series events that are taking place in the lead up to the 2014 SSE Dublin Marathon in October.
We caught up with one of the people doing the run, Colm Reilly, to talk to him about his preparation for the September 20th half marathon, why he chose to do the run and any advice he might have for those hoping to take up some physical activity.
---
Andrea Bland (AB);

So Colm, lets talk about the elephant in the room, why did you decide to take up the gauntlet laid down by the life team?

Colm Reilly (CR);

When I first moved to Dublin for college I stopped taking part in the same amount of physical activity as I did when I was growing up which led to a few years of physical inactivity. I got talking to two colleagues from the life insurance team about their initiative to encourage people to be more active by taking up running and I thought why not give it a go.

---

AB

What do you think of the Life Insurance team's idea to get people more physically active?

CR

My role with Chill Insurance has allowed me to learn about different elements of life insurance and the one element that is key across everything is your health. From serious illness to mortgage protection, your health can play an important role in you getting an affordable premium. Unless you work in a physically demanding position your job mightn't lend well to having time to stay fit and health so personally I think it's a great idea.

---

AB:

Did you do a lot of physical activity before you started running?

CR:

As I said I used to play team sports, like most people do, in my youth but once I moved to Dublin I fell away from that. Not everyone likes to train with others, or go to the gym, which makes running a great alternative.
Running feels like a communal event almost. Yes you do train on your own for a vast majority of the time but come race day you are surrounded by at least 1,000 other people who have gone through the same thing as you. So for the life team to support any initiative for people who still want to keep fit, but don't have competitive sporting aspirations, is definitely a great idea.

---

AB:

Were there any barriers to you taking up running?

CR:

For me initially it was not knowing how far I was actually running. I would have cycled a lot of places in my college days but I didn't know how far a kilometre or mile actually was on foot. The fact that we always have our smart phones with us helps, in that there are some great apps on the market for runners, like Strava or Map My Run that allow you to track how far you have actually gone.
As for other barriers, I know another person on the team, who hasn't run in a few years, found the first few runs tough as they had just bought some new gear but after the initial first few sessions they were out doing lunch time runs and even jogging after work.

---

AB:

Finally what advice would you give to anyone who is thinking about taking up running or some other physical activity?

CR:

I would say that if you are thinking of taking up exercise after not doing any for a number of years it's always wise to consult a medical professional to make sure you are cleared to start. From my experiences there are two things that kept me on the straight and narrow:
First thing you should remember is that running isn't the only thing you can do to be active. Any small amount of physical activity will benefit you and your health in the future.
Secondly, try and mix up what you do as much as possible as this can stop boredom setting in. I found that going for a jog was getting boring so I would go for a cycle every so often as well.
---
You can track Colm's training progress on his Strava profile at this link
Our Life Insurance team are keen to encourage everyone to take up some form of physical activity as it not only helps you maintain a healthy weight but could also help with your life insurance premium in years to come.
To show our support for the everyday athlete we have teamed up with New Balance during the Months of September and October on a number of fantastic runner give-away. Each month we will be giving one lucky person the chance to win a years supply of New Balance runners and we will also have individual pairs of runners to give away.
Follow this link to find out all the details of our New Balance runner give-away.
Modified Date: