Go Gadget Go
Win An iPad!
Published on by Andrea Bland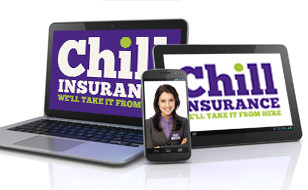 Over the last few months, the insurance experts here at Chill have been beavering away to find a brand new policy for you, and today we are proud to unveil Gadget Insurance!
We all know how important our gadgets have become to our everyday lives, especially with the advent of items such as the tablet computer, iPhone and smartphones. The average country has a 35% smartphone penetration rate per capita, however in Ireland we have excelled this rate to 49% in 2012. That is a phenomenal amount of smartphones in the country and secures our position as techie fans. Similarly, 16% of us own a tablet device (which is a two fold increase from 2011), and 88% own a laptop.*
So it's clear that Ireland is a nation of gadget lovers! We check our emails on our mobile devices, keep up to date with social media networks and plan our days using a variety of devices on the go.
If the worst should happen, you can have peace of mind knowing that Chill Gadget Insurance has you covered. We have loads of great benefits and cover levels to suit you and your pocket. Chill Gadget Insurance can be purchased online, over the phone (1890 26 25 55). The policy is underwritten by Zurich Insurance, so you know you have the best teams looking out for you.
With Chill phone and gadget insurance, you will get a decision on a claim in 1 working day and a new replacement device if lost or stolen within 1 day also, a nationwide courier service is used to ensure that the loan or replacement phone is hurried to you as quickly as possible, so you are not without your device for too long unlike other gadget insurance policies you can make up to two claims per year.
* Source: www.thejournal.ie
Competition Time!
Are you a gadget freak? Does your gadget mean the world to you and would you be lost without it?
If so, we want to hear your most embarrassing incident which left your favourite gadget broken, damaged or lost. Did you drop it down the toilet? Did you sit on it and smash the screen?
To mark the launch of our new gadget insurance product range, we have a brand new shiny iPad up for grabs with one year's free Extra cover! All you have to do to be in with a chance of winning is visit our Facebook page and tell us about your most embarrassing incident that broke, damaged or lost your favourite gadget, if you have a picture of the broken device, we would love to see it too! The best (or worst!) accident posted before 5pm on the 31st of July will win!
Win an iPad with one year's free Extra cover Terms and Conditions
Entrance must be aged 18 years or older and residents in The Republic of Ireland.
Competition not open to Chill Insurance employees or associates.
One entry per person.
The winner shall be chosen and notified by Chill Insurance.
Entries will only be accepted via the Chill Insurance Facebook page: https://www.facebook.com/chillinsurance or in the comments section below.
By entering this competition you agree to Chill Insurance's terms of business.
The prize is defined as follows: 1 x iPad and one year's free Gadget InsuranceExtra Cover
The closing date is July 31st at 5pm
Modified Date: