Get the Movember Low-Down!
Downing Your Razor in November?
Published on by Simon Keating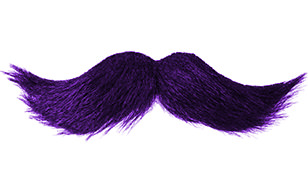 Get your razors at the ready and prepare yourself for one last shave as the global phenomenon that is Movember prepares to kick-off!
That's right, this November sees the return of the mustachioed movement aimed at changing the face of men's health by supporting programmes that look to combat prostate and testicular cancer, as well as mental health. It's taken the world by storm since it's inception in 2003, so the question is will you be sprouting some facial fuzz?
What is Movember?

The Movember movement was set-up to raise awareness of men's health and it has been hugely successful across the world. Movember sees its male participants, known as Mo Bros grow moustaches of different shapes and sizes throughout the month of November. Each Mo Bro is sponsored by friends and family to sport their tache without cutting or trimming it for the whole month. The movement is not just for men. Women or Mo Sistas are encouraged to join in by helping raise awareness and providing encouragement to their Mo Bros.

The rules

To encourage participants to grow a Mo, the Movember movement has come up with some fun rules to help you cultivate a tremendous tache. Firstly, a Mo Bro must start the month with a cleanly shaved face. Over the period of the next 30 days he must then grow and groom a moustache to a style of his liking. The two caveats are that no moustache must join to sideburns (a beard), and no handlebars must meet (a goatee). The final rule is that all moustache aficionados must conduct himself like a country gentleman while spreading the word about Movember.

Sign on the dotted line

Why not show your support? After all, it's for a good cause. All you need to do is register online to get involved, and you could be on your way to sporting a marvellous moustache. Not interested in growing soup strainer? Then why not encourage someone who is, and sign up to support them along their journey!
If you're going to be casting aside your razor, letting your hair grow eau natural and adding some warmth to your upper lip this November, then from everyone here at Chill Insurance we'd like to wish you a very memorable Movember!
Modified Date: