David Gillick Q & A
Dublin Marathon Build Up
Published on by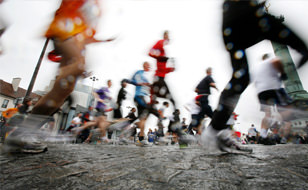 The 2014 Dublin Marathon takes place over the October bank holiday and will see a large numbers of competitors run 26.2 miles around Dublin. Joining that mix of professional and everyday athletes will be some members of our Life Insurance team to support our drive to encourage people to be more active.
As part of this campaign we teamed up with New Balance Ireland to run a series of giveaways over the last couple of months with prizes including everything from apparel to multiple pairs of runners as part of our pledge to support the everyday athlete in being fit, active and healthy.
Our final trainer giveaway will run from the 27th of October 2014 until midnight on the 31st of October 2014. To enter all you need to do is get a mortgage protection or life insurance quick quote and you will be automatically entered into the draw.
Find out more about the draw, as well as the t & c's, at this link.
For the count down to our final brilliant New Balance giveaway, which is a year's supply of New Balance trainers, we sat down with Irish track and field legend David Gillick to ask him about his career, his advice for runners and why he started back playing GAA with his local team.
We also asked our Facebook and Twitter followers to submit their questions to David for a chance to win a pair of new balance trainers. If you submitted a question to David just scroll down to the bottom of the page to see which question he choose as his winner.
David Gillick Q & A
Q.Kevin English: - What are you most proud of? Raising the Irish sprinting standards by being the first Irish sprint gold in 73 years or your National record? What was the highlight of your career?
A.David Gillick:- For me it was both – raising the standard and giving the belief that the Irish can sprint. Medals are great but for me making the final in the Berlin World championship was the highlight of my career. Outdoors is where the big boys play and to me being up there with them was a highlight.
---
Q.Bryan Sheedy:- Would you ever do a marathon or would you prefer to do Masterchef again?
A.David Gillick: Masterchef was incredible.... hard, long, back to back days, but yes I would definitely do it again! As for a marathon, well of course one day I would like to do one but I will seriously have to increase my mileage before then!!
---
Q.Christine McCann: - How do you calm the nerves before a race? I find I'm nearly frozen in the first quarter mile with nerves, feeling sick and wondering what I'm doing there.
A.David Gillick: - Nerves are a common problem but remember nerves show you care and should be embraced. When I get really nervous, I write down the worst things that I think can happen as they never look as bad on paper! Then I rip it up and bin it!
---
Q.Patricia Patten - How do you keep believing in yourself that you can do it and motivate yourself before a race?
A.David Gillick:- I set myself realistic targets. The key is that you don't get too ahead of yourself. If you have worked hard to get to this point, then you owe it yourself to compete. I always want to be able to look myself in the mirror and say that I've done what I set out to do.
---
Q Eoghan Morgan: - I know everyone's going to be asking a lot of running related questions but here is one: what convinced you to go back and play football for Ballinteer St Johns, after so many years of being an athlete?
A.David Gillick: The intensity of 400 metre training began to take its toll on my body and in turn my mindset towards athletics changed. When I gave it up I felt I wanted to continue partaking in a sport with a goal, so I decided to give football a go as I enjoyed it in my teens….plus my brother wouldn't stop annoying me until I played a game!
---
Q Noreen Ahearn - What are the best Runners to wear when you are doing a marathon
A.David Gillick: This is a very individual question. The important thing is you are comfortable and the shoe fits well. I wouldn't be running a marathon in a brand new pair of shoes.
Either a neutral or a stability shoe is best for you. You also need to choose based on your foot strike ie heel or forefoot.The New Balance range, such as the 1080 (Neutral) and 1260 (Stability), caters for all of these types of athlete.
If you are someone who is looking for something more lightweight and fast, or perhaps you're somewhat of a more experienced runner, then a racer like the RC1600 or 890 are great.
---
Q.Christopher Corrigan: - what's best thing to have for breakfast before a big race in your opinion?
A.David Gillick: Personally my breakfast before a big training session or a race was 80g bowl of porridge, made with water. I would then add 30g of vanilla whey protein, fresh berries, banana and mix. A pint of water and a mug of green tea. Each person has their own routine, find what suits you best and stick with it. One key thing is not to introduce new foods or new routines on the morning of the run as you don't know how your body will react.
---
Q Joan O Sullivan: - What is the feeling like when you just pass the finishing line?
A.David Gillick: Crossing the finishing line, when you have run well, is the best drug your body and mind will ever experience. The sense of self-esteem and pride is unbelievable.
---
The Winner Is!!!!
Best question Joan O Sullivan – simply because it made me reminisce!
---
If you would like to know more about mortgage protection or life insurance our team are here to help answer any questions you might have. Our friendly and experienced advisers are on hand to support you from your initial quote all the way through the life of your policy. Call us 1890 30 20 20 to speak to one of our team.
Modified Date: