Congratulations to the Cork Hurlers!
C'mon the Rebels
Published on by Andrea Bland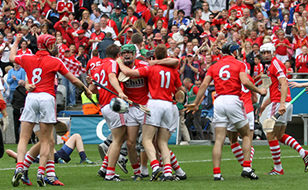 Well done Lads! What a great weekend for Hurling fans and especially for the Rebels! In a nail biting end to end Semi-final, we saw the two counties clash for the second time in as many weeks. The Dubs came out victorious in the football, but the Rebels reigned supreme in this intense clash in Croke Park on Sunday.
Despite a few sad Dublin fans in our Dublin based Head Office, we are delighted as Cork sponsors to see the lads proudly sporting our logo as they head into the All Ireland Hurling Final on Sunday September 8th with their opponent yet to be decided as Limerick still have to face Clare to battle it out for the all illusive place.
Over the next few weeks we will be running lots of exciting competitions to win tickets to the final and lots of Cork goodies from Chill Insurance, so keep your eyes on our blog, our facebook page and our twitter feed to see how you can book your place in the final.
For now however, as proud sponsors, we want to say a huge congratulations to the Cork Hurlers and wish them all the best for the upcoming final.
Chill, Proud sponsors of Cork's Hurling Team.
Modified Date: