Child Car Seat Safety
Safety Advice For The Winter
Published on by Andrea Bland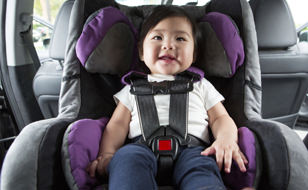 61% of Irish 5-12 year old's travel to school by car which means that there can be a lot of parents bringing their children to school, childcare and crèches in the mornings and evenings. Are you one of these parents? Depending on the time of the year your morning car routine is based around making sure that your child has their jacket, hat, scarf and gloves on. Making sure that your little ones are kept secure, as well as warm on car journeys, supersedes any time constraints you might have had before they came along.
During the winter months the priority for all parents, in addition to layering the child with adequate winter clothing, is their child's safety in the car. These months usually require that extra care is taken due to the extra amount of car journeys you, as a parent, can find yourself going on. From going to Christmas parties, present shopping and mid night masses to visiting relatives and Santa Claus himself, you could find that you are on the road more often during this time of the year.
Although each family, trip and car is different we've asked our team of experts, the mothers and fathers in the office, to come up with some of their tips for making sure that your child is safe and secure during the winter commute.
Child Car safety during the winter
Car seats
All parents know the basics of car seats but we're just going to round up the key information for you. First of all, by law, any child under the age of 17, travelling in a vehicle, has to be restrained using the appropriate restraint system. Two of the most important things to consider with child seat restraints are the height and weight of the child. Children under 150cms (4ft 11in), and weighting less than 36kg (79 lbs), have to restrained using the method that is appropriate to their height and weight.
Babies up to 12-15 months of age, max 13kgs (29 lbs), can be seated in a rearward facing baby seat.
Children between 9 months to 4 years of age, or between 9-18 KGs (20-40 lbs), can be seated in a forward facing child seat. Rearward facing seats are also an option for children in this category. In recent years the British Medical Journal has suggested that it may be safe for children to remain in rear-facing seats until they are four years of age.
Children between 4 – 6 years of age, or between 15-25 KGs (33-55 lbs), can use a booster seat.
Children between 6- 12 years of age, or between 22-36 KGs (48-79 lbs), can use a booster cushion.
The safest place for your child seat is the back seat of your car but if this is not possible you can place use your front passenger seat once you have taken certain precautions. According to www.rsa.ie / @RSAIreland it is safe and legal for a child of any age to sit in the front passenger seat of a car provided they are using the correct child restraint from the above age and weight scales. If you are going to be placing a baby in the front passenger seat you should disable the front passenger air bag. Make sure you turn the airbag back on when the child is in another seat.
Safety Belts
Winter time means winter jackets and for children this can sometimes mean jackets with bulky padding. When you are putting children in their seats make sure you are not putting them at risk because of these jackets. A good test is to place your child in their seats with their jackets on and then put on their safety belts. Now take off their jackets and see how much space there is between them and the belt. If the belt is loose then this means that the child will not get the full support of the belt if there were an incident where the belt was needed. Although keeping your child warm is key keeping them secure is the priority.
In The Event of an Incident
During the winter there can sometimes be a slight rise in innocuous bumps as well as an increased chance that you will have to bring the car to a sudden stop. If this happens then your attention will turn straight away to the children in the car. If this happens here are some quick tips for you:
Keep calm and take a breath. Make sure you are in full control of the situation before checking on others. Although it is easier said than done it is best to try and keep your emotions in check. Your child will take the lead from you so if you are not calm they will recognise the signs.
Check your child for injuries. Reassure them that everything is okay. If necessary call emergency services.
Take note of the other persons details and if, you have a smartphone, take pictures of the scene of the incident. If you need to make a claim, or a claim is taken against you, every image you can have will help during the claims process.
---
If you are involved in a traffic accident / incident make sure you report it straight away to your car insurance provider. You will also need to check your child car seat as it may need to be replaced with a newer one.
For the parents in the office those are the key things that they think you have to remember if you have young children in your car at any time of the year. If you have any other suggestions we'd love to hear from you on the Chill Insurance Facebook page or @chill_insurance.
Modified Date: