Championship Car Giveaway Finale
Who won the 2nd Renault Megane?
Published on by Fergal Lynch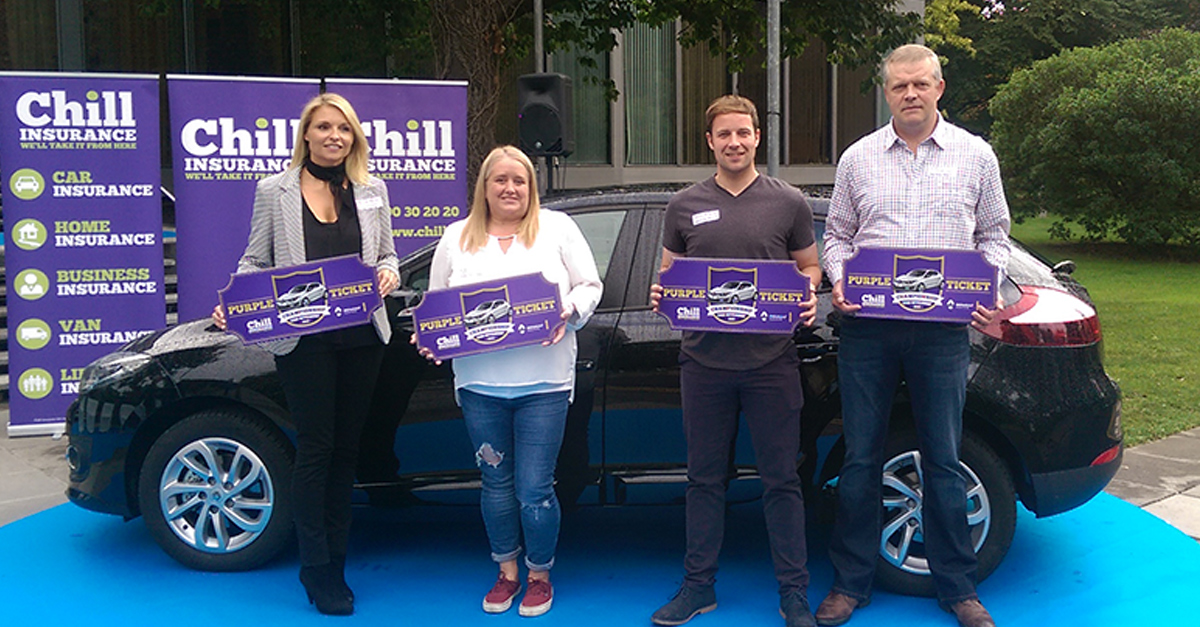 The second and final week of the Chill Insurance Championship Car Giveaway, in association with Renault Ireland, took place last week and what a final it was!! The competition ran all week, live on The Ryan Tubridy Show on RTE Radio 1 in the mornings, and got a great reception! The overall competition was based on Movie Quotes and impersonations! There were some fantastic attempts at Shrek, Lord of the Rings, Mrs Doubtfire and many more movies to win the sought after Purple Tickets. Ryan and the team at RTE picked the best quote each day and awarded them each with a Purple Ticket!
On Friday, our final took place at RTE Radio Centre with 4 of the Purple Ticket winners:
Melanie Reid, Co Wicklow
Jonny McGailey, Co Louth
Brian O'Driscoll, Co Clare
Rebecca Naughton, Co Kildare
Ryan Tubridy ran the Ultimate Movie Quote quiz live on air on Friday morning with the 4 finalists! For every correct answer, you had to pick 1 out of 12 keys. Only 1 of the keys would open the car though!! Melanie and Rebecca both ended up with 4 keys each, Jonny won 3 keys and Brian only won 1 key! It quickly got very intense as it was now time for each of the finalists to try out their keys!
After Jonny, Melanie and Rebecca tried 2 of their keys and Brian had tried his only key, we still hadn't got a winner. That left just 3 finalists who still had a chance of winning a brand new Renault Megane! Jonny went next and as soon as we heard the doors click open we knew we had our final winner. Jonny McGailey, who travelled up from Cork that morning, was overjoyed as he shouted "GO ON THE TOWN" and took snapchats with Ryan and his new car. He also gave us another rendition of his fantastic Lord of the Rings quote that got him to the final in the first place. The 3 runners-up didn't leave empty handed either and walked away with insurance vouchers. Check out the video below to see how it all went down!
There was a great atmosphere as everyone enjoyed an exciting and fun finale to the Chill Insurance Championship Car Giveaway. Jonny joins our first winner Pamela as a new owner of a brand new Renault Megane. Over the past 3 weeks, we also gave away multiple insurance vouchers to lucky listeners on RTE Radio 1, 2FM and RTE Lyric FM! We would like to thank every single person who entered all of our competitions and congratulate all of the lucky winners! Keep an eye on our blogs and social media for more great competitions over the coming months!
Check out how the first Chill Championship Car Giveaway final went on The Rick O'Shea Show by clicking here!
---
Speaking of great quotes, why not check out what insurance quotes we could possibly offer you?? We compare leading insurers across the country to try to get you a great deal! Check out www.chill.ie/products/ to see how we can help you!
Modified Date: