Is Insurance Romantic?
Protecting You and Your Loved Ones
Published on by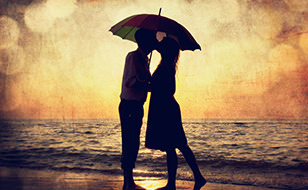 From our award winning accents right down to the fact that the patron saint of love himself resides on these shores, we Irish are a romantic bunch. What, may you ask, does any of this have to do with insurance?
After birthdays and Christmas, Valentines Day must rank highest among dates when we receive gifts from loved ones. In many cases a lot of thought and effort goes into choosing the correct present that conveys your feelings. But what other insurance should you be thinking about as well.
Home Insurance

Moving in with a partner can be fun and exciting with many couples I know deciding to move in together around this time of the year. Going from living with friends or family to living with a partner can be one of life's great adventures. From choosing where to live to visiting Ikea, each day brings a new challenge. Over the course of your time living together you can acquire a lot of things. Protect your shared possessions at all times by having home and contents insurance in place.

Car Insurance

Being in a relationship can sometimes lead to sharing cars or having a car that both partners now use. If you have decided to share a car and are looking to cut the cost of motor insurance why not do a little research in advance. The money you could save can help you with running your car for the rest of the year.

Getting Married

For some, valentines day is the day you decide to ask your partner to marry you. The date itself has become one of the most popular days of the year for marriage proposals. An estimated 6 million Americans proposed on Valentines day 2013 according to an American Express spending and saving index. If you are planning on popping the question this February 14th why not have a read of one of recent blogs on insuring your precious diamond.

Life Insurance

Life changes go hand in hand with romance. From moving in together to getting married, there are many milestones that you will pass on life's journey together. But have you ever thought about what would happen to your partner if anything were to happen to one of you? No matter what stage in life you are in, this is a very serious question to broach. Chill Insurance doesn't profess to be experts in love but we can help you when it comes to information on life insurance and how it can protect your loved ones in the future.
Wanting the best for you and your partner can be one of the most romantic things you ever do. Insuring that you plan for your life together will not only get you major brownie points, it will also enable you to enjoy all those years you are planning ahead for.
---
This Valentines Day think outside the box and ask us about what we can do for you and your partner. Here at Chill insurance we search and compare on a number of different insurance types so if you are planning on popping the question you might have a little bit more to spend.
We mightn't be able to arrange last minute flowers or chocolates but call us on 1890 30 20 20 to speak to one of our team about what we can do for both of you.
Modified Date: