Breast Cancer Awareness
Statistics on the impact on Ireland
Published on by Fergal Lynch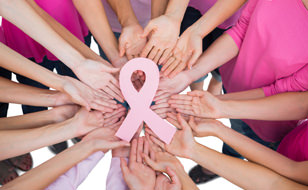 We all know someone who has been affected by breast cancer either directly or indirectly at some stage in their lives. This October marks international Breast Cancer Awareness month in many countries around the World including Ireland, USA, China and the UK. According to the World Health Organisation (WHO) there are a reported 1.38 million new cases and 458 000 deaths from breast cancer each year.
This form of cancer has the unwanted title of being one of the most common forms of cancer in Ireland followed closely by skin and prostrate cancer. In every country holding a Breast Cancer Awareness month the campaign is build on three similar pillars and those are:
Awareness
Early detection
Treatment
---
Facts about breast cancer
Every year, in Ireland, 2,600 women are diagnosed with breast cancer and 660 women die from the disease.
Breast cancer is the most common form of cancer diagnosed in Ireland with 2767 cases per year (32% of the total).
1 in 10 women in Ireland will get breast cancer at some stage in their lives.
In the 15 year period from 1995 to 2010 there was no noticeable decline in the number of instances of deaths from breast cancer.
Irish mortality rates were 3rd highest, after Belgium and Denmark and were 22% higher than the EU overall.
Female breast cancer incidence in Ireland was 12.5% higher than the EU average
Between 1994 to 2010 there was a 1.9% increase in incidents of breast cancer.
There are, on average, 16 men diagnosed each year with breast cancer in Ireland.
According to American Cancer Society, Breast Cancer Facts & Figures 2013-2014 the following age groups are most at risk from developing breast cancer.
People aged between 40 - 50 1 in 69 (1.5%)
People aged between 50 - 60 1 in 43 (2.3%)
People aged between 60 - 70 1 in 29 (3.5%)
People aged between 70 + 1 in 26 (3.8%)
Chance of developing breast cancer in your life time is 1 in 8 (12.3%).
Breast cancer accounted for more than 50% of all specified illness cover claims in Ireland in 2013
---
Those At Risk From Cancer
The statistics related to breast cancer and their impact on society paint a picture of a cancer that has no prejudice when choosing those who contract it.
Based on evidence gathered during research over the last number of years it could be proposed that those that are diagnosed with breast cancer don't have any common traits and that it can affect anyone at any time.
Although this is true there are certain characteristic, identified by the Irish Cancer Society, among those that are diagnosed that you could use to build a profile of those most at risk from developing this form of cancer.
Breast Cancer Risk Factors
Gender –Females are most susceptible to developing this form of cancer
Family History –If someone in your family has had this cancer the chances of you developing it can increase.
Age –As mentioned previously the statistical chance of you developing this form of can increases greatly as you enter into a new decade.
---
What You Can Do
If you have a family history of breast cancer you should speak to a medical professional for advice about what you can do to reduce the risks of your developing this form of cancer.
Sites such as www.standup2cancer.org/, www.cancer.ie, www.breastcancercare.org.uk, www.standuptocancer.org.uk/ and www.komen.org/ also offer great resources. Although not always possible to stick to, if you are able to do any of the following you can greatly decrease the chances of developing breast cancer.
Be active
Maintain a health weight
Limit alcohol consumption
Limit or stop smoking.
Breastfeed
---
Plan Ahead With Life Insurance
Investing in some form of life insurance cover at an early age means that if you were to be diagnosed with cancer or other specified illnesses you and your loved ones would have some financial support based on the type of cover you choose.
If you do require time off work for testing, treatment and recovery, having serious illness for example may give you financial support and can be very worthwhile.
Each insurer can differ in what they offer, as well as what conditions they can cover, so make sure you check with them on the specifics of your cover before committing to a policy.
Speak to one of our team about the different type of cover available to you including serious illness and specified illness cover by calling us on 01 4003434 or 1890 30 20 20.
Visit www.cancer.ie for more information about the various activities taking place throughout October to help raise awareness and funds for research and development of breast cancer services.
Modified Date: