Blog Awards Ireland
We've Made the Long List
Published on by Fergal Lynch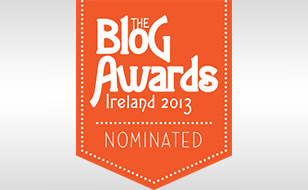 We're delighted to share with you guys, our loyal readers some fantastic news! This blog has been nominated for several categories at the prestigious Blog Awards Ireland which take place in October 2013.
Our blog really has gone from strength to strength over the last 12 months and we now have a team of 15 bloggers from across the business that regularly pen their thoughts, share premium-busting advice and keep you posted on all the latest happenings from Chill Insurance HQ.
As a business we've found that sharing useful information on our blog is a fantastic way to attract people to our site and keep them returning for more. In fact, over the last year traffic to the blog has increased significantly and we're sure its increasing popularity is one of the main reasons that we've been nominated for the following awards:
Best Group Blog
Best Corporate Blog
Best Mobile Compatible Blog
2013 has been a very busy time for the team and the nomination follows hot on the heels of our shortlisting for the recent Digital Marketing award and our content marketing strategy receiving praise, so we're absolutely thrilled that our efforts have once again been recognised in this way.
Having scoured the long list I think it's safe to say that we're up against some really tough competition in what we're sure will be three closely fought categories between the cream of the crop.
We'd like to thank you for stopping by and helping to make this blog such a success, but we won't be getting our glad rags out just yet. The next step is to wait until 8 September 2013 when the Blog Awards Ireland shortlist will be announced. We'll be keeping our fingers crossed until then, and don't worry we'll let everyone know how we get on.
Modified Date: