Bike to Work Scheme
Cycling To Work Made Easy
Published on by Sinead Greene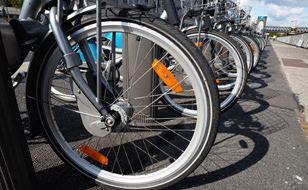 A government scheme to encourage people to cycle to work came into force on January 1st 2009. Under this scheme an employer is allowed to absorb the expense of providing an employee with a new bicycle and bicycle safety equipment without the employee being liable for benefit-in-kind taxation.
The aim of the scheme is to promote cycling to work to employees not only for health benefits but also to help reduce traffic congestion and aid environmental issues. The bicycle and safety equipment provided must be used by the employee mainly for journeys between the employee's home and normal place of work, or between his or her normal place of work and another place of work.
By using the Bike to Work scheme, your employer can help you obtain a brand new bike and safety equipment worth up to €1,000. You can use a salary sacrifice arrangement to pay for the bike monthly and that means you can save up to 52% of the retail price of bike and equipment.
There are benefits for both the employer and employee with the cycle to work scheme:
Employee benefits
Monthly payments with no finance charges.
Save money on travel costs to and from work.
Reduce travel time by not having to rely on public transport.
Beat the congestion and avoid rush hour traffic jams.
Health and Fitness
Employer benefits
PRSI savings
Reduced parking problems
Improving Your Company's Environmental Image
Reduces carbon pollution and shows that the company have an interest in the well-being of the local community and environment.
A healthier, fitter workforce means better performance at work and fewer sick days being taken.
There are numerous amounts of bike shops in Ireland all selling top of the range bikes, so what are you waiting for? Go check them out and get cycling!!!
Modified Date: