Be Prepared In the Workplace
5 Health And Safety Preventative Measures To Introduce
Published on by Fergal Lynch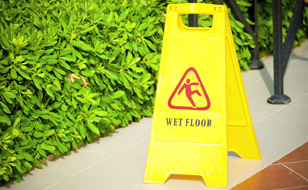 Figures released by the HSE in January 2014, covering the previous 12 months, showed that the number of reported non-fatal injuries in Irish workplaces were slightly down for 2013 versus 2012. Included in their report was some of the following information such as:
Reported Non-Fatal Injuries
Main cause of reported non-fatal injury for 2013
Manual handling (33%)
Slips, trips & falls (18%)
Sectors with the highest injury rate (per 1,000) for 2013
Construction 16.7
Health & safety 15.9
Agriculture 14.2
It is important for every workplace to continue to help these figures to drop year on year. One of the most proactive ways of doing so is to plan ahead with some preventative measures.
All Irish employers must produce a health and safety statement relating to their workplace and activities. The safety statement must be based on the risk assessment of the hazards that may affect the employees or visitors and must be reviewed and, if necessary, amended as required. Chill Insurance is here to help by offering you a free health and safety audit and statement when you take out your business insurance policy with us. This is available by calling one of our team on 014003400.
In the meantime we have asked our business insurance team to put together a list of 5 quick health and safety preventive measures you could implement in your own workplace.
5 Health & Safety Changes
Write up safety policies and procedures that are documented and shared with all employees
Create a health and safety team that will be responsible for monitoring possible hazards at work that may cause an accident.
Ensure that all staff are trained in how to use all fire safety equipment used in the workplace including all the various types of fire extinguishers, sprinkler systems, and smoke alarms.
Ensure all employees are trained in how to use personal protection and safety equipment as required by their role.
Ensure all employees are made aware of the importance of correct manual handling procedures when handling heavy, hazardous and fragile item in the workplace.
---
Each workplace is different but any of the above health and safety suggestions are a good start point for your business in your quest to help reduce non-fatal injuries.
Are you looking to purchase, or renew, your business cover? In just two minutes our business insurance quick quote will help you compare a number of different cover options to help you find a policy based on price and benefits that suits you.
Modified Date: