Be Prepared and Not Scared
Halloween Home Safety
Published on by Sinead Greene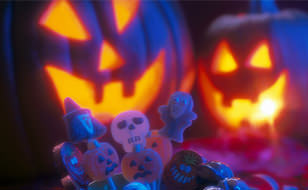 With Halloween just around the corner, it's time to dust off those ghostly costumes, put on the menacing make-up, and celebrate this fiendishly fun time of year!
At Chill Insurance we want you to have a waaail of a time this Halloween, but it's also important that you take some extra precautions, especially if your little ghouls and goblins are running amok with their trick or treating. That's why we've come up with some helpful advice to keep your home safe this scary season, and not turn a good night into a Halloween horror story.
So without further ado, here's some handy hints you can sink your teeth into:
Pumpkins a-light!

While Jack-o-lanterns can help set the perfect scary scene, they also pose a fire hazard to the home. When placing a candle inside a pumpkin, be sure to keep it away from flammable objects such as curtains, or even a trick or treating costume. Pumpkins are the cause of numerous household fires, so it's always important to keep an eye on them.

Store your valuables out of harm's way

Perhaps you're putting on a spook-tacluar party for your little ones? If you're going to be dancing away to the Monster Mash this Halloween make sure you lock away any fragile items. This can help save your valuables from meeting an untimely end! Another tip is to make sure there is sufficient lighting in your home, as some guests may not be familiar with the layout of your place. This will help lower the chances of an injury or damage to your property.

Keep an eye on those decorations

When putting up Halloween decorations, be sure to check that they are not close to any open flames, as they may catch fire. Also exercise care when placing decorations near bulbs and other lighting equipment, as these devices can give off heat, which could catch alight.

Ward off unwanted visitors

If you intend not to be home on Halloween, be sure to set the alarm and keep the house lit. If you give burglars the illusion someone is home, this can help scare them off.
For more horror preventing hints, why not call us on 1890 30 20 20, or click Get a Home Insurance Quote to take out cover and prevent a home horror this Halloween.
Modified Date: