With Bad Weather Expected
Keep Your Home Protected
Published on by Simon Keating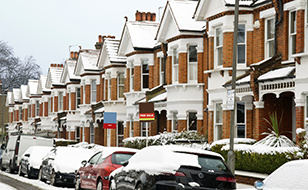 The darker days are well and truly setting in. Central heating is switched on longer, jackets are being zipped up tight, and there's a cold spell in the air. It's time to grab the gloves, slip on the scarf and wrap-up warm – winter's here, and it looks like its set to stay!
Winter is the time of year most Irish people loathe, but with all the time we spend preparing for the CHILLs that come, do we stop to think how our houses and homes will deal with the inevitable icy temperatures set to hit properties nationwide?!
The cold harsh winter weather can inflict severe damage to households that are unequipped, which in turn, can shoot home claims through the roof. At Chill Insurance, we know that making a home insurance claim can be a real pain and costly. So that's why we have come up with some simple tricks and advice, to save your home from the horrors of the winter's cold snap.
Beat the freeze!

As the low temperatures of winter set in, so do the severe stints of frost, and with this, the risk of frost related damage like burst pipes. A handy tip is to make sure your pipes are properly insulated. With the right amount of insulation, the chances of pipes freezing or bursting are greatly reduced. It can also help to insulate the top parts of the water tank. Doing this will help lower the amount of heat lost through the attic and roof.

Water, water everywhere...

With the winter weather creeping closer and an increase in prolonged rainfall, get a head start against possible water damage by checking your roof for any missing slates or tiling. Another tip is to regularly check and remove all dead leaves and debris from your drainpipes and gutters. Also, be aware of any damaged trees near your property, as these can cause particular risks during stormy weather.

Fumble the fire

During winter, outbreaks of fire can be increased. Installing a number of smoke alarms is a good measure against fire. It can give you the extra warning you may need. Make sure chimneys are cleaned yearly, and that fireguards are placed in front of all open fires. Have your boiler checked annually too.

Botch those break-ins

During the festive season, burglaries tend to rise. Thwart the thieves by preparing for break-ins. Install a monitored house alarm. This will mean no matter where you are you'll be notified. Make sure all locks on doors and windows are secure and tight. This will stop burglars dead in their tracks. Why not leave a spare set of keys with a neighbour? That way if you are away for a long period, they can regularly check the house is safe and secure.
Are you curious about what home cover would best suit you this winter? Why not give us a call on 1890 30 20 20, or click Get a Quote now.
Modified Date: