April Business News Roundup
What Made The Headlines in April
Published on by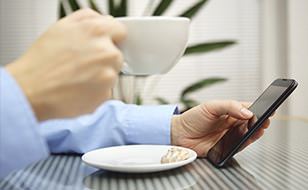 Since January we've published a series of business blogs which have covered some interesting stats and figures from each month and April was another great month for such releases.
In Chill Insurance news, April was an exciting month for us as we launched another of our new TV ad's featuring Jennifer Maguire and launched brand new quick quote pages for Life and Business Insurance. So along with car and home, you can now get a Business or Life quick quote in minutes!
Outside of Chill HQ, we spotted a few news articles which caught our attention including the continued growth in Irish export figures as well as improved sentiment in both the housing and motor sector. Finally we take a look at a great infographic on how commuters in Dublin make their way around the city.
Chill Insurance Launch Business Quick Quote
At Chill Insurance we know that for many business owners, finding the time to search for business insurance can be tricky. So to help you get a great policy at a great price, while saving you time, we have launched our new business quick quote. If you are an office or retailer, we can give you a price in minutes! Alternatively you can choose the item of interest from our drop down menu. Try our new quick quote for yourself.
Continued Export Growth
Back in our March news round up we looked at the export trade figures from January 2014 versus the same period in December 2013. In April the CSO released an update to these figures that showed that this trend continued for the month of February with export figures up 3% month on month. As usual the main drivers were in food and merchandise exports.
Construction Sector Increase
You may have noticed a number of new properties popping up all around the country recently. This growth, according to statistics released in April, in properties has helped create a mini revival in the number of people employed in the construction sector with employment figures in March matching those from 2006. This increase has also helped the property sentiment stay in or around the highs of December 2013. As always, working in construction requires liability cover, so why not check out our new quick quote and find the right cover for you.
Dublin Property Price Increase
Good news for those who are still hoping to get on the property ladder a recent report from Merrion Stockbrokers should be an interesting read for you. They are reporting house prices in Dublin could increase by 10% or more this year. This figure is ahead of the rest of the country which they estimate will rise by an average of 6%. So don't forget to grab a Home, Life or Mortgage Protection quick quote from us and get your foot safely on the property ladder.
Dublin Rental Increase
It would appear that Ireland's growing reputation as a location for businesses to set up in has begun to have an effect on rental prices. Over the past 12 months, Dublin has experienced growth largely because of a rapidly falling supply of high quality space and continued demand from international firms. This surge in demand has led to an increase in prices for companies and business looking to take up residence in the capital.
Ireland Is A Dream Destination.
The bi-annual www.tripadvisor.com TripBarometer Study has reported that Ireland is in the top three dream destinations for American visitors. In our March round-up we referenced a www.huffingtonpost.com article which revealed that Cork is among one of Europe's overlooked destinations. This bodes well for both job creation and sustained visitor numbers from the 2013 Gathering.
Car Sales On The Rise
SIMI have released statistics that sales figures for both private and commercial vehicles are performing strong for the first quarter of the year. Private motor sales have out performed many recent quarters with SIMI suggesting that current sales represent the best return since 2008. Commercial motor sales were up 43% for the quarter. With this rise in car sales, it's important to make sure you are properly covered. Call us today about motor or van cover.
Dublin Is On the Move
We love a good infographic here at Chill Insurance and this one from the National Transport Authority is pretty good. Since 1980, Dublin City Council has conducted traffic counts at 33 different locations through out the city. They recently released the figures from 2013. Some standout stats include the number of cyclist up 87%, 17,000 people traveled by foot and 68,000 people chose to travel by car.
As the above showed this past April certainly represented a great month for positive news in terms of national and international growth. As a business owner the positive news that sentiment across many key sectors has improved should be view with great excitement due to the knock on effect it may have for you.
If you would like to speak to any our teams about your business insurance needs why not try out our new dedicated business quick quote page or call us on 1890 30 20 20 to speak to a member of the team.
Modified Date: