8 Traffic Jam Distactions
Things To Do If You Are Stuck In Traffic
Published on by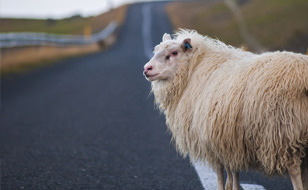 Back in the cold weather of 2010 around the 2nd week of December I managed to end up being stuck in traffic for nearly 5 hours which, when you consider that my normal drive home was only 30 minutes, was a little bit frustrating.
This was one of the main reasons why I decided to start cycling and jogging to work more often during the darker winter months. Not only is it a quicker way to travel but it also helped me stay fit and healthy which totally justifies that bar of chocolate I eat after I get home, right? But if you're not in a position to jog or cycle home what can you do in your car to avoid going insane at the wheel?
Before we start lets look at some stats on Irish traffic from some TomTom research.
Short cuts taken by Dublin road users found to actually add around 50% extra travel time to their journeys.
Dublin is the 10th most congested city on the planet.
The worst times of the day for travelling in Dublin are Tuesday mornings and Thursday evenings.
Dublin commuters encounter an average yearly delay of about 96 hours.
On www.nra.ie, the national road authority website, they provide an estimate on the amount of traffic on the Irish roads over the course of a calendar year. Their figures are estimated by calculating the mean daily traffic volume over the course of a year. This involves dividing the total traffic volume in the year by the number of days in the year.
We've taken a look at the figures released for the last number of years to see if traffic is actually rising around key areas. Here is what we could gather:
M50 Southbound between junction 9 N7/M50 Red Cow and junction 10 Ballymount has had 86404 cars on average daily in 2014 versus 59575 in 2013. (Final figure for 2014 not yet available)
Traffic on the M50 Between junction 13 Dundrum and junction 12 Firhouse, Balinteer, Co. Dublin during the month of December 2013 peaked at 07:37 with an average of 8550 cars on that section on an hourly basis
During the month of November 2013 AM traffic on the N40 between Jack Lynch Tunnel and Mahon junction, Co. Cork peaked at 6472 cars daily. The average traffic per day for this road during 2013 was 59130 cars.
Traffic during September 2013 on the N17 between Tuam and Claremorris, Co. Galway peaked at 550 cars during the AM with peak time around 08:01. PM traffic during this month peaked at 17:11. The level of traffic averaged out at 670 cars during PM hours.
The AM peak on the N25 between Waterford City and Dungarvan, Co. Waterford came at 10:59 and the PM peak hit around 16:55.
---
Like hunger, traffic can strike at any time so there is always a chance that you might encounter a delay and will be stuck in a tailback at some point. So what can you do? Don't worry because Chill Insurance are here with some excellent suggestions on how to pass away the time if you are stuck in a traffic jam.
8 Traffic Jam Distractions
Learn all the words of the latest monster hit that will be playing on every radio station you switch to. At present this includes the likes of "All about that bass" by Meghan Trainor, "Fancy" by Iggy Azalea ft Charli Xcx or "Happy" by Pharrell Williams.
Get caught up with what news stories the people are talking about on a regional and national basis via the radio.
Listen to a podcast. The number of podcast being produced has shot up in the last number of years with many of your favourite radio shows producing a bite sized version of their shows for you to consume on the go. The current pop culture podcast hit "Serial" could be a great place to start.
Make a mental list, simple as. We all have lists that we need to make at different points of the year from Christmas cards, Christmas presents or even a grocery shopping list. Put those extra few minutes in the car to good use by getting your list making out of the way.
Check your car insurance. Your motor cover disc is within your finger tips which means you could use the down time to check the expiry date. If it is up for renewal why not check out our quick quote to see how much you might be able to save on your cover this time around.
Check your NCT and car tax. Both of these are located in the same place as your car insurance disc so you can use the time to make sure they are all in date.
Clean out your car. If you use your car on a regular basis you might accumulate various packaging and wrappers so now might be the best time to have a quick clean up.
Whether you are coming from or going to work, shopping or to pick someone up you might need some time to yourself. Take that extra time in the car to relax and get your breathing in place.
---
Getting stuck in traffic is never fun but there are a number of things you can do to pass away the time but make sure you are not too distracted that you cause a further delay for the other cars around you. Tweet us via @chill_insurance to let us know your traffic jam hacks.
Modified Date: