8 Summer Driving Hazards
Staying Safe On The Summer Roads
Published on by Fergal Lynch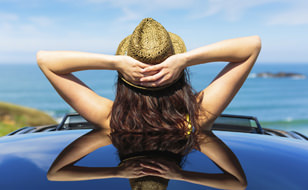 To make sure you are safe and secure on the roads we have put together a quick list of road safety hazards you might encounter so that you are equipped for the summer time.
8 Summer Driving Hazards
---
Cyclists
With the warmer weather, we often come across more cyclists on the roads. If you are planning on doing any driving keep an eye out for those on two wheels. Be careful when overtaking cyclists and ensure that there is enough distance between your vehicle and the bikes
Road Resurfacing
Summertime is a popular time for the national roads authority and county councils to arrange road works due to the long days and the dry weather. This can sometimes come with additional delays and loose chippings. So keep an eye out for resurfacing notices and slow down when necessary.
Blinded By The Light
It is really important to keep your windscreen clean and free from dirt and grime during the warmer weather. Make sure to give the windscreen a good wash before heading out on any long journeys.
Fatigue
Driver fatigue is something that can affect anyone and there is no miracle cure to stop it. We all have our methods for staying alert at the wheel from stretching in our seats to letting in some fresh air. Try to avoid these short term fixes and go for something that may have a longer impact. Aim to take a break every two hours, avoid carb heavy meals and if necessary pull in at a rest stop to have a 15 minute nap.
Like Minded People
You are probably not the only person to notice the change in the seasons so it's a good idea to remember this when you are going for a drive. Summertime is a peak time for Irish family vacations so be aware of the additional road traffic around high tourist areas.
Young Drivers
Be mindful of learner drivers on the road and think back to your learning experiences before saying or doing anything.
Farm Machinery
The Irish farming community has a small window in which to get a vast majority of their major winter preparations done. Most of their work is done between May and September so if you are planning on driving through the countryside be aware of potential delays caused by this work.
Chance of Showers
Every Irish person knows that even if the weather forecast doesn't call for rain it probably still will. Rain showers and poorly maintained tyres can increase the risk of aquaplaning. During the summer months this can be doubly true so make sure you are prepared by having your tyre pressure and tread depth checked.
---
Despite all the glorious weather, and activities that are common during the summer months, it is always important that you stay vigilant for the unexpected. Doing this will keep you and others safe on the road while allowing you to enjoy the good weather.
If you are looking for a great quote for car insurance, call us on 01 4003400 or get a Quick Quote on this page today.
Modified Date: