Planning Some Home Improvement?
7 Home Redecorating Apps to Try
Published on by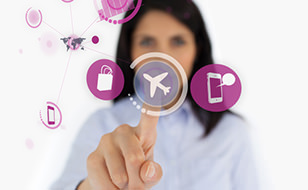 Our smart phones and tablets have become the de facto source of information and a resource for solving arguments in the pub.
Case in point, stop reading this blog and check how many tabs or web pages you have open at this current moment. As I write this I have more than six tabs open with varying pages related to work. On my phone I have seven different tabs and on my tablet I have at least 10 different tabs open at any time. My phone has pages of apps related to various things such as health apps, social apps and of course Angry Birds. It has become more common place for us to search on our phone as we always have it to hand.
Chill recognised the fact that people have more means to connect to the internet than ever before which is why we released our responsive website to suit what ever device you might choose to visit through.
But phones and tablets are not just useful for solving the argument of what is the name of the latest Tom Hank's movie or what was Liverpool's line up at the weekend. With 37% of people searching for DIY via their phone or tablets, we have put together a quick list of some of the apps we use at home to help us be more productive or make a decorating decision.
---
Design
Houzz Interior Design Ideas
With many people undertaking home renovations or buying new homes this app is a great resource to have at your finger tips. Containing over 150,000 images of various bathrooms, kitchens and bedrooms the app has been described as the Wikipedia of interior and exterior design as it provides great resources to anyone looking to start, or continue, improving their home.
---
Decorating
Dulux
Choosing from fire cracker 5 and paradise green 4 can be a bit of a chore as they can look similar but if you are renovating or redecorating your home the Dulux paintapp is useful. It allows you to use the images on your phone to come up with colour schemes and colours meaning that if you see something nice somewhere you might be able to replicate it in your home.
Pinterest
For some people pinterest is a daily visit for design inspiration as it allows you to create some really diverse boards based on your needs at the time. The job of the app, like many apps, is its usability and integration with most sites. You can pick and choose what you like allow others to see your boards. The real fun aspect is who you can choose to follow and what they pin to their boards.
---
Homeware
Ikea
Pretty simply this is just like the printed IKEA catalog, is packed with inspiration, home furnishing knowledge and ideas for free. The app certainly makes planning those trips to Ikea that little bit easier.
Ebay
The official eBay app is full of features that make it easy to browse, buy, sell and manage your eBay experience whenever and wherever you are. Meaning you can track your bids and sales where ever you are.
Amazon
Amazon is one of the easiest to use apps on the market. With such a wide range of items available on Amazon it means that if you are searching for cutlery, clothing or anything else all you might need is at your finger tips.
Fab
FAB claim to offer great uniquely designed goods at great prices. What can be confirmed, due to the many purchases through their app and website, is that they do stock a great range of items that you might not realise you need but you certainly end up wanting.
---
Although those are only a selection of some of the most popular apps used by some of my co workers there are still literally millions of others for you to use and recommend. If you do have any suggestions or recommendations why not let us know in the comments below.
Keeping your design and decorating ideas in one place has become easier thanks to the various apps available on the market. This means that ensuring your device should be protected at all times. Our gadget insurance offers you that extra piece of mind to know that if anything were to happen to your device you are covered. Ensuring your home and goods are also covered is now even easier thanks to our quick quote facility. Why not click on get a quote to learn more.
At Chill we are always happy to hear from our customers on any issues they may have on 1890 30 20 20 or via our Twitter and Facebook pages.
Modified Date: