5 Construction Apps
5 Apps For The Construction Industry
Published on by Simon O'Donovan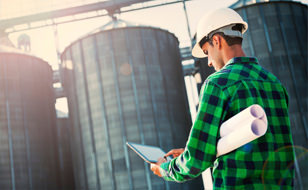 The construction industry, like many industry's, has not escaped the influence of smartphone technology. A recent study carried out by Sage in the USA found that 85% of construction industry decision makers believe that mobile technology has had a major impact in the last number of years.
This advancement over the last number of years has allowed for greater collaboration between the contractors onsite and those involved in the project offsite such as architects and project managers.
Your building site, like any workplace, runs on collaboration and efficiency so we have put together a quick list of 5 construction apps that may help speed up, and give increased accountability to, your various building projects.
SnagR
The SnagR app brought snag lists into the digital era when it was originally launched in 2011. Like many of the apps on this list, SnagR is a collaborative app that offers a simple and accessible way of plotting defect management, site inspections and more on the construction site. Each project comes with individual task reference codes, task owners, priority and most importantly its location.
Plangrid
As we mentioned, the average building work requires a good deal of collaboration between the various parties involved. Plangrid allows the architects and contractors to store their project plans, specifications and images while also having the capability to sync and share the information in real time. It currently works with PDF files only, but the processes of uploading and downloading these files is easy.
BuildCalc
Although somewhat more expensive that many of the rest of the apps on this list, BuildCalc could be considered the Swiss army knife of builder calculators due to the wide rage of features it comes with that help cut down on the time required for you to have to do construction site maths. The BuildCalc app provides a material estimation calculator for several construction materials including footings, masonry, volume/area and roofing. The calculator app also does conversion for distance, area, volume, weight and angles.
Turboscan
From time to time, while onsite, you may need to update plans, add addendums or forward on plan changes to the different parties involved in the project. Turboscan goes someway towards converting your iPhone into a quickie portable scanner, to add quality adjustments to images, and to file and forward the scanned docs. The app allows you to send scans to the Dropbox and it also has the built in capability of emailing PDFs and JPEGs to yourself.
Google Drive / Dropbox
Our fifth app suggestion is kind of a cheat as we are actually suggesting two, both of which have very similar functions. Dropbox and Google drive allow you to store important files and images, related to the various projects that you are currently working on, and then share them online. Both are free to set up, with costs increasing once you go over certain usage thresholds, and have great synchronising over multiple platforms such as desktop, smartphone and desktop devices. This is a great way to store, and access, your public liability or contractors all risk information if called upon.
---
Completing a construction project, no matter what the size, can be a stressful task in part due to the various moving elements involved and the timelines in place. With the onset of digital technology the need, for the various parties involved, to bring physical paperwork to each site you are working has decrease. Not only can smart devices increase productivity and make you more environment friendly, they can now allow you to track any changes made during the building process in case the standard of your work is called into question in the future.
Modified Date: