World Cup 2014 - 5 Business Lessons
What Can Businesses Learn From The 2014 World Cup
Published on by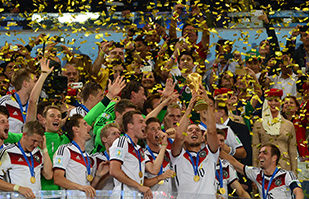 The 2014 world cup has set records for social media engagement and TV viewing figures. Twitter are reporting that there were 672 million tweets sent during the tournament, Facebook estimate that 350 million people generated 3 billion interactions(posts, comments and likes) related to the World Cup. From an online search perspective there were nearly 2.1 billion World Cup-related searches on Google. Finally 56% of the Irish TV viewers tuned into RTÉ 2 for their coverage of the final and Bill Herlihy's final broadcast.
With so many eyes on Brazil 2014, over the last month, what can business owners and operators potentially learn from the biggest event of the year.
Team Work
In the lead up to the tournament much was being made of what impact Messi, Ronaldo and Neymar would have on the outcome of their respective countries. Germany had no main stream star attractions instead they had "Die Mannschaft" or "The team". Joachim Löw, the German coach, put together a collection of individuals who all worked together to ensure the betterment of the team. As a business owner, creating a team can be a key factor for your company's success.
Organisation
Drawn in the "group of death", playing in games in difficult locations and beating the two South American superpowers in South America needs to be acknowledged as a triumph of Germany's organisational and forward planning.
As a business owner you might not encounter issues as diverse as those Germany did during their World cup campaign but planning ahead, via something as simple as business insurance, can help you maintain your focus on the priorities of your business.
Adapt
When Neymar and Thiago Silva were ruled out of the World Cup semi final no one could have foreseen how much their loss would impact the rest of Brazil's campaign. Brazil failed to adapt to the loss of two inspirational players and the rest is unwanted history for the team. On the other hand, unexpected injuries to the likes of Sami Khedira, Marco Reus and Christoph Kramer forced Löw to adapt and initiate contingency plans.
The business environment you operate in can be changeable. This means that you may need to adapt and over come obstacles such as loss of business or new competitors entering the market place.
Make a Change When Needed
Netherlands coach Louis van Gaal chose the 119th minute to introduce his final substitution, a goal keeper, during the match against Costa Rica. Recognising that his first choice keeper was potentially not their best option for the penalty shootout he took the decision to make a change that would allow the team to make it to the semi-finals.
Recognising that you can make a change at any time to improve the chances of a positive outcome for your business is something that business operators should be aware off.
Review To Renew
Germany's success in the final was the result of most of the above. But perhaps the greatest lesson you, as a business owner, can learn from is not from this World Cup but instead from the 2004 World cup and Jurgen Klinsmann. When Klinsmann took over in 2004 he started a complete overhaul of the countries footballing mentality. After a review of their performances, from previous tournaments, he set about changing mind-sets of key stakeholders and decision makers by injecting passion and bringing new ideas to a system that had potentially grown stagnant.
As a business owner, an annual review of your company can allow you to identify areas that may require updating and where you could potentially stand to be rewarded by switching up and changing the status quo.
keeping all my fingers crossed for Jogi and THE MANNSCHAFT !! Let's make it 4 after 1954, 1974 and 1990 !! pic.twitter.com/b9z9AAohPH

— Jürgen Klinsmann (@J_Klinsmann) July 13, 2014
---
As an Irish business, one of the most important long term decisions you may need to make is on your choice of business insurance providers. Germany's victory at the 2014 World Cup was an example of how long term planning, coupled with short notice adaption to certain situations, can help a business succeed in many high stakes industries.
The Chill Insurance business team have experience of adapting to the different business environments our customer work in and are always on hand to help you choose the business cover to suit you and your team on 1890 30 20 20.
Modified Date: