Irish Car Sales Insights 2013
Indication for a Strong Start to 2014
Published on by Sinead Greene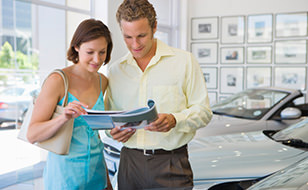 We know that the Irish consumer has a great deal of car brands to choose from as well as a large spectrum of colour choices which is evident when you take a look at Irish roads while siting in traffic or taking public transport. I know from the days that I either walk, cycle or drive to work that I always seem to pass a lot of silver cars or a lot of Volkswagen Golfs but what are actually the most popular cars brands, type, colour, etc in Ireland so far this year?
To get an idea of what is popular we had a look at this months report by the Society of Irish Motor Industry (SIMI) which had some good information on the choices made by Irish car buyers. 5 most interesting insights that piqued our interest.
---
Who are SIMI?
SIMI is the official voice of the motor industry in Ireland. Their members include a number of Dealers, Repairers, Vehicle Distributors, Wholesalers, Retailers, Vehicle Testers and many more important operators within the motor industry in Ireland.
---
5 Insights
Volkswagen is the top selling make of car this year as of November 2013. With the Volkswagen Golf as the best selling make this year so far.
The most popular colour of car so far this year is Silver.
Think you see a lot of Ford Transits on the road? You would be correct as it is the best selling van model in Ireland this year
Van sales are up 3% on last years figures with Ford being the top make on our roads.
Finally 42% of the population drive a hatchback.
As the SIMI report shows there are a lot of different makes and models of vans and cars on the road at present. This is the same for insurance companies and the choice of policies they can offer you. Chill Insurance like to think that we are the good guys of the insurance industry because we deal directly with the insurers for you. Our friendly and helpful team are on hand to help with all you car and van insurance needs.
We take the hard work out of your insurance research by having dedicated pages for car insurance and van insurance as well as blogs which shares advice and help on getting the perfect policy. If you are looking for the best quote why not call us on 1890 30 20 20 to speak to one of team or visit us on www.chill.ie to get a quick quote today.
Modified Date: