Christmas Opening Times
Chill Insurance Opening Hours for Christmas
Published on by Simon Keating
Seasons Greetings,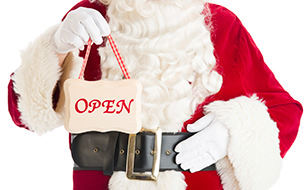 With the festivities in full swing, and Christmas nearly upon us, we hope you are having a very merry festive season. How is your wish list looking? Have you sent out all the Christmas cards yet? Is that letter to Santa almost finished? These are probably the priorities that come to mind first, and I'd imagine insurance may be the least of your worries. But, if you're looking for a great deal this December, Chill Insurance is your one stop shop.
Here at Chill HQ, we are all about being there for our customers. We've been working hard all year long to bring you the customer service you need when it comes to insurance. It's important that our customers can contact us during the Christmas period. To help bring a little extra yuletide cheer, we're going to open for most of the busy season. But of course we asked Santa first. In fact, aside from Christmas Day, St. Stephen's Day, and New Years Day, our lines and offices are open as usual.
Come hail, rain, or snow, our Customer Service team will always be at hand to help you get the right cover for the right price. So, if it is Car Insurance cover for your car; Life Insurance for you or your family; a Home Policy to keep your household safe or Gadget Insurance for your shiny new device compliments of jolly old Saint Nick, it's never a bad time to call us!
---
Our opening hours over the Christmas 2013 season are:
Christmas Eve – Tuesday 24th December: 9 a.m. – 8 p.m.
Christmas Day – Wednesday 25th December: Closed
Thursday 26th December: Closed
Friday 27th December: 9 a.m. – 8 p.m.
Saturday 28th December: 10 a.m. – 5 p.m.
Sunday 29th December: Closed
Monday 30th December: 9 a.m. – 8 p.m.
Tuesday 31st December: 9 a.m. – 8 p.m.
Wednesday 1st January 2014: Closed
Thursday 2nd January 2014: 9 a.m. – 8 p.m.
From everyone here at the Chill Insurance HQ, we hope you have wonderful and safe Christmas and New Year!
Modified Date: